BrainMax Sleep Faster
Code:
5

Professional consulting
We are experienced. We are happy to advise!

We test what we sell
We verify the high quality of the products.

Fast shipping
We really have the products in stock.

Free shipping
When purchasing over CZK 1,500.
Related products
Product detailed description
BrainMax: SLEEP FASTER for sleep hacking
6 active ingredients for hacking sleep in huge doses. With SLEEP FASTER we will teach you to sleep faster . Good sleep does not mean sleeping 8 to 10 hours. Good sleep is only if you are in the deepest and REM sleep phase long enough . Quality sleep is a key factor for overall physical and mental health.
SLEEP FASTER is for everyone. It is not limited to people suffering from poor sleep or sleep. The substances contained in it not only improve the quality of sleep, but also reduce tension, relieve stress, calm the body, support regeneration, participate in the formation of important neurotransmitters, have a positive effect on depression. Plus, believe it or not, there's always room to improve sleep, even if you think you're sleeping well.
Year of development of the search for the optimal sleeping formula
The BrainMax and Performance Training team has teamed up to test the optimal sleeping combination for quality sleep. We took advantage of almost a year of testing in the creation of the new SLEEP FASTER product. The aim of testing the optimal sleeping formula was to achieve in the tested subjects:
Moving or resetting the internal clock (circadian rhythm).
Reducing the sleep time to a minimum.
Deepening sleep and increasing its effect on physical regeneration.
Prolongation and improvement of the deepest phase of sleep and REM.
Enriching sleep with experiences: vivid and memorable dreams.
Ensuring a positive impact on depression and mental health problems.
You can see for yourself if we succeeded :)
*% Reference values for vitamin and mineral intake.
** 2000 mg magnesium taurate = 150 mg elemental magnesium, which corresponds to 100% of the recommended daily allowance. according to Decree 54/2004 Coll. wording 1 April 2018.
The recommended daily dose corresponds to one level measuring cup.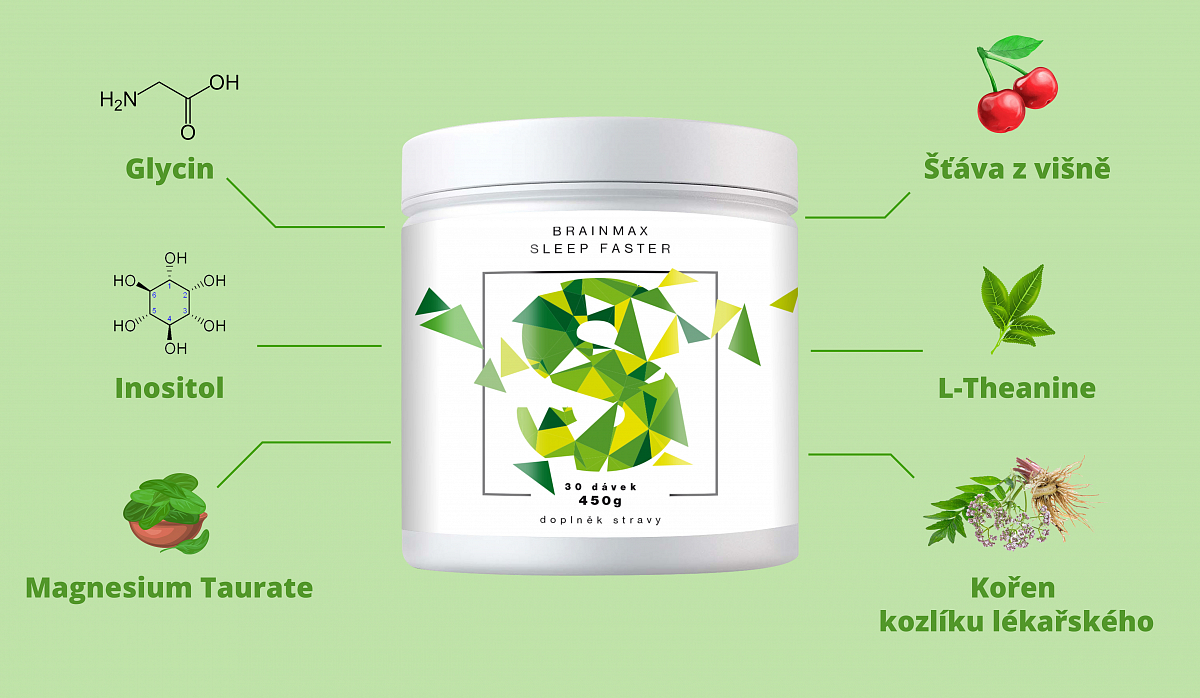 If you had to buy all the products separately, you would pay at least CZK 1,256 (ie almost 30% more):
Brainmax: Sleep faster is a combination of six natural ingredients that are nothing new for long-term Performance clients. These now appear in maximum doses in a combination that is unparalleled at the international level.
Advantages of SLEEP FASTER
6 pixels of different supplements will no longer interfere with you in the drawer.
Easy to use. Instead of 6 supplements, you now use only 1 SLEEP FASTER.
Lower purchase price compared to the purchase of 6 supplements for quality sleep.
Financial analysis of the price of quality sleep
We have calculated for you the price you would have paid if you had purchased all the supplements separately. Due to legislation, we do not label individual products, but we can reveal that these are food supplements of the highest quality, which you can also find on BrainMarket.
Glycine: 150 g = 282 CZK
Inositol: 150 g = CZK 485
Magnesium Taurate: 60 g = 272 CZK
Prunus Cerasus (Cherry juice): 7.5 g = 69 CZK
L-Theanine: 7.5 g = 63 CZK
Valerian root: 3 g = CZK 85
Total price = 1,256 CZK
SLEEP FASTER saves you 50%. Expressed in numbers: 357 CZK.
We set the price for a good night's sleep: 29 CZK
Composition :
Glycine , Inositol , Magnesium taurate , Cherry juice , L-Theanine , Valerian root , Maltodextrin , Beetroot extract , Natural aroma .
Package weight: 450 g.
Storage: At room temperature in a dry dark place.
Warning: Keep out of reach of children. The product is not intended for children, pregnant and lactating women. Do not exceed the recommended daily dosage. The product should not be used before driving. The product is not intended as a substitute for a varied diet. Maintain a healthy lifestyle.
Manufactured in the Czech Republic as a custom production for the company Votamax sro
Additional parameters
Category

:

BrainMax
Weight

:

0.594 kg
Forma

:

Prášek
Pro jedince řešící

:

Spánek
Typ

:

Komplex látek
Velikost balení

:

480 g

?

Hmotnost:

:

480 g
Be the first who will post an article to this item!