BrainMax Pure Turmeric BIO powder, 500 g
*CZ-BIO-001 certifikát
Code:
34578

Professional consulting
We are experienced. We are happy to advise!

We test what we sell
We verify the high quality of the products.

Fast shipping
We really have the products in stock.

Free shipping
When purchasing over CZK 1,500.
Related products
Product detailed description
BrainMax Pure Turmeric BIO powder, 500 g
Turmeric whose main active ingredient is curcumin is rightly called a panacea. Curcumin contained in turmeric has a positive effect on digestion , liver , cardiovascular system , immune system - antioxidant , nervous system , respiratory system , joint and bone condition, mental balance and, last but not least, anti-inflammatory .
Turmeric is an ancient superfood that has been used for centuries in traditional Ayurvedic medicine to promote balance and vitality . In addition to the king of antioxidants curcumin contains turmeric also vitamins , minerals , is rich in fiber and protein . Turmeric has a delicate, spicy taste and aroma . It is used in Asian cuisines for sauces and cooked rice, which turns beautiful yellow.
You can find out more about turmeric at BrainPedia.cz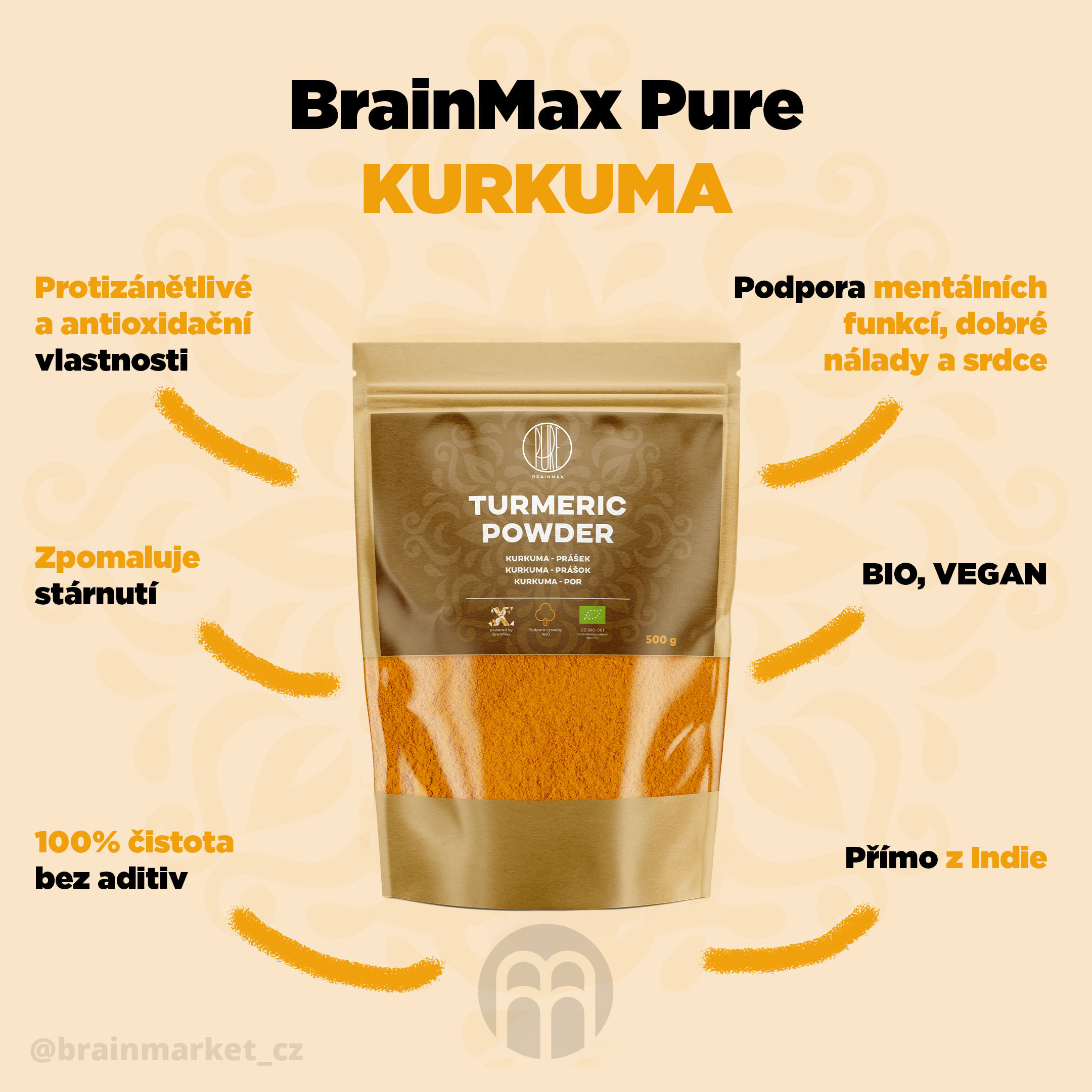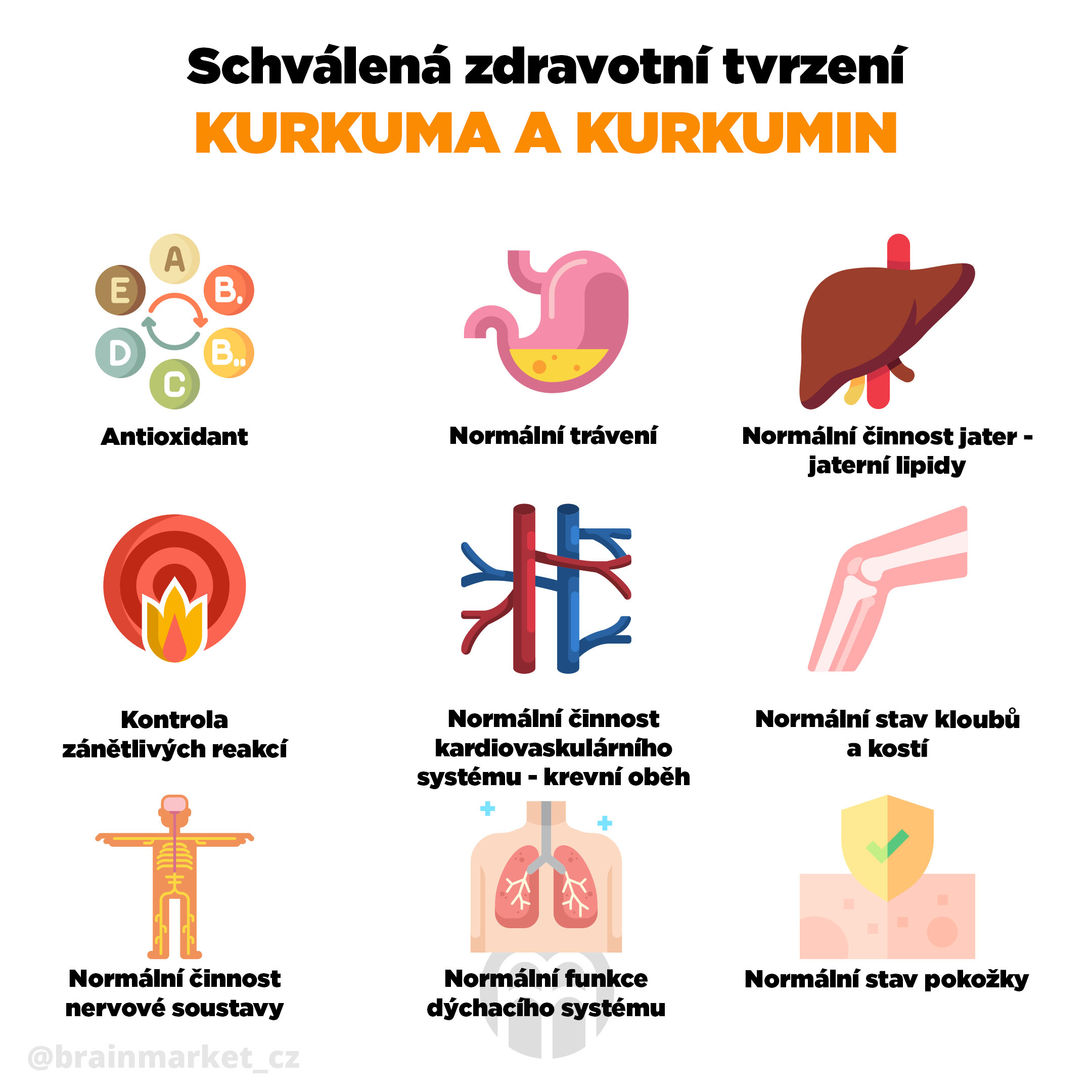 Advantages of BrainMax Pure Turmeric BIO Powder:
100% RAW raw material from India in BIO quality.
High content of curcumin, which is the king of antioxidants.
Very strong antioxidant effect and positive effects on the liver, cardiovascular, nervous, digestive, respiratory system and mental balance.

 

(approved health claim).
Positive effect on joints, bones and skin (approved health claim).
Turmeric roots are gently dried to maintain the highest possible curcumin content.
Intense aroma and taste.
Possibilities of using Turmeric
Turmeric has a delicate, spicy taste and aroma. You can add it to every meal from soups to sauces or rice.

You can use turmeric to prepare a traditional Ayurvedic healing drink golden milk or immunity shot.
Use of turmeric in the kitchen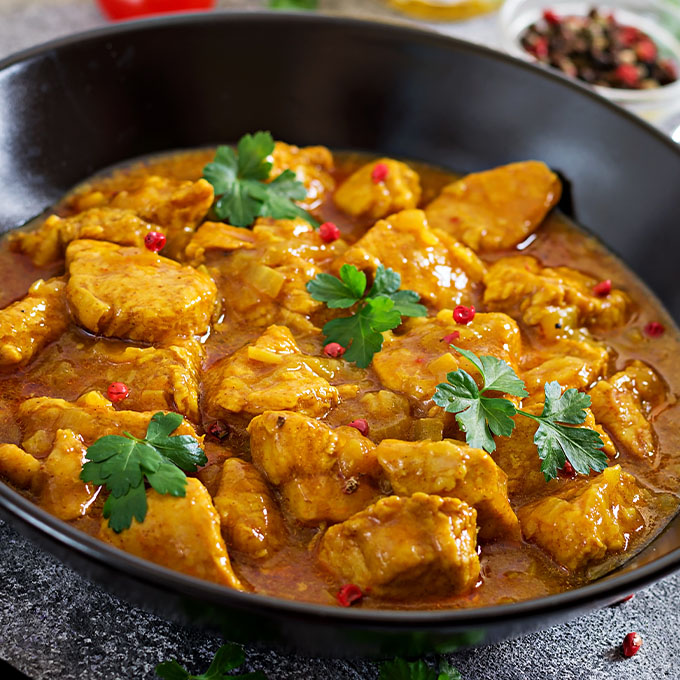 Basic spices for cooking
Turmeric has been used for centuries to flavor food for its delicious taste, beautiful color, but also for its healing effects on the digestive system.
Add it to stews, soups, dips, sauces and salad dressings. Don't forget to add a pinch of black pepper to increase the absorption of turmeric!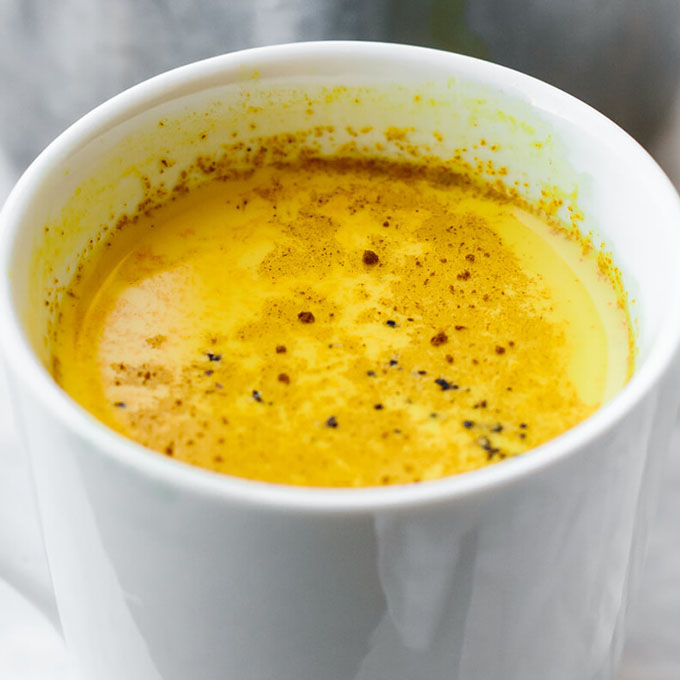 Golden milk
Golden milk is a traditional healing Ayurvedic drink that has been popular in India for hundreds of years.
Mix hot vegetable milk such as coconut with 1 teaspoon turmeric, 1/2 teaspoon ginger, 1 teaspoon coconut oil and a pinch of black pepper. Sweeten to taste or add vanilla or Ceylon cinnamon.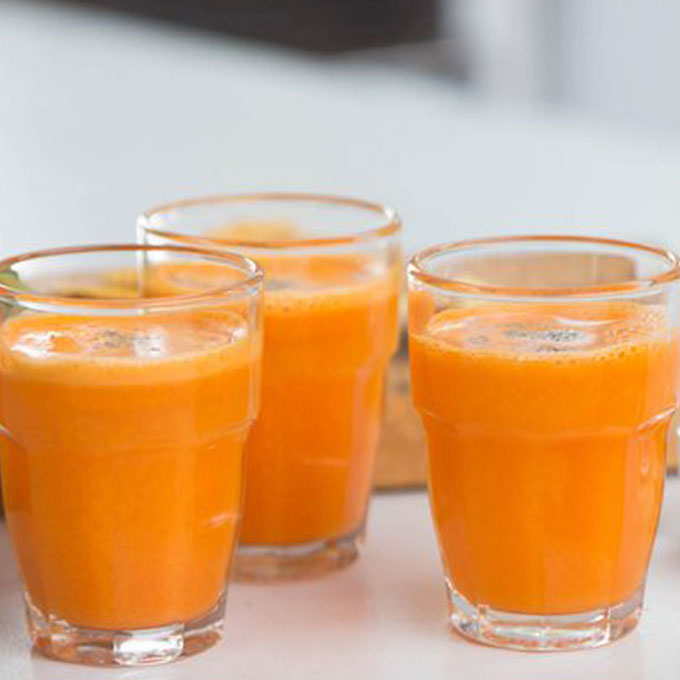 Immunity shot
Mix 2 dcl of filtered chilled water with 1 meadow of turmeric, ginger, squeeze one lime or lemon and add a little Himalayan salt.
Advantages of BrainMax Pure Turmeric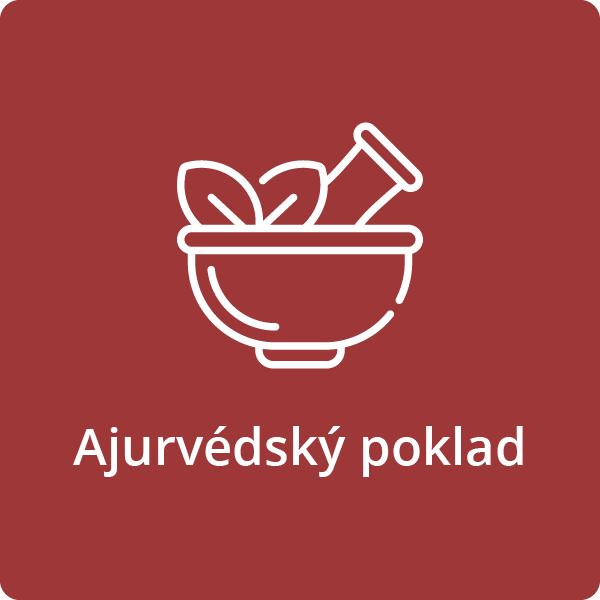 Ayurvedic treasure
Turmeric is a powerful healing spice that has been used in Ayurvedic medicine for thousands of years. Ayurveda is considered to be the oldest health care system in the world. It emphasizes the harmony of body, mind and spirit as a means of disease prevention.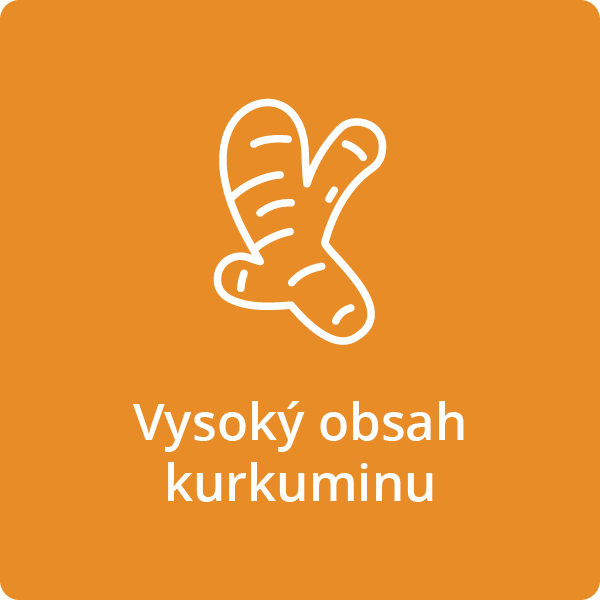 High curcumin content
BrainMax Pure Turmeric is made from organic turmeric rhizomes grown in organic farming in India and is loaded with curcumin, a powerful antioxidant whose positive effects on the body have been documented in nearly 600 studies.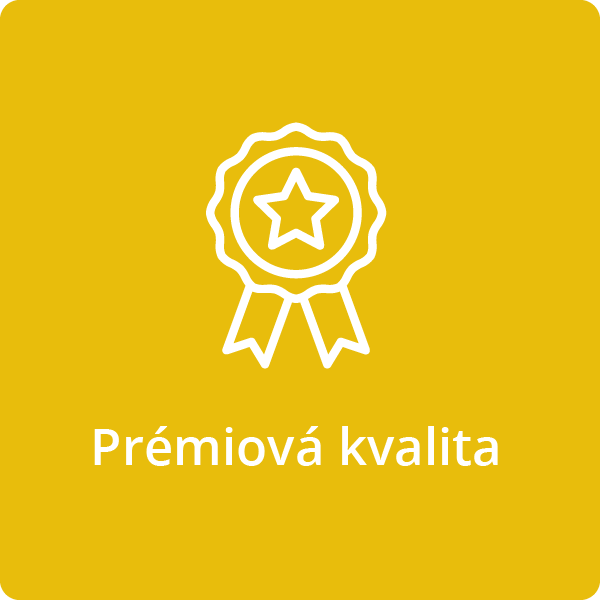 Premium quality
Premium quality turmeric for great taste and maximum nutritional and health benefits. Turmeric roots are dried at low temperatures to maintain the maximum amount of beneficial substances, especially curcumin.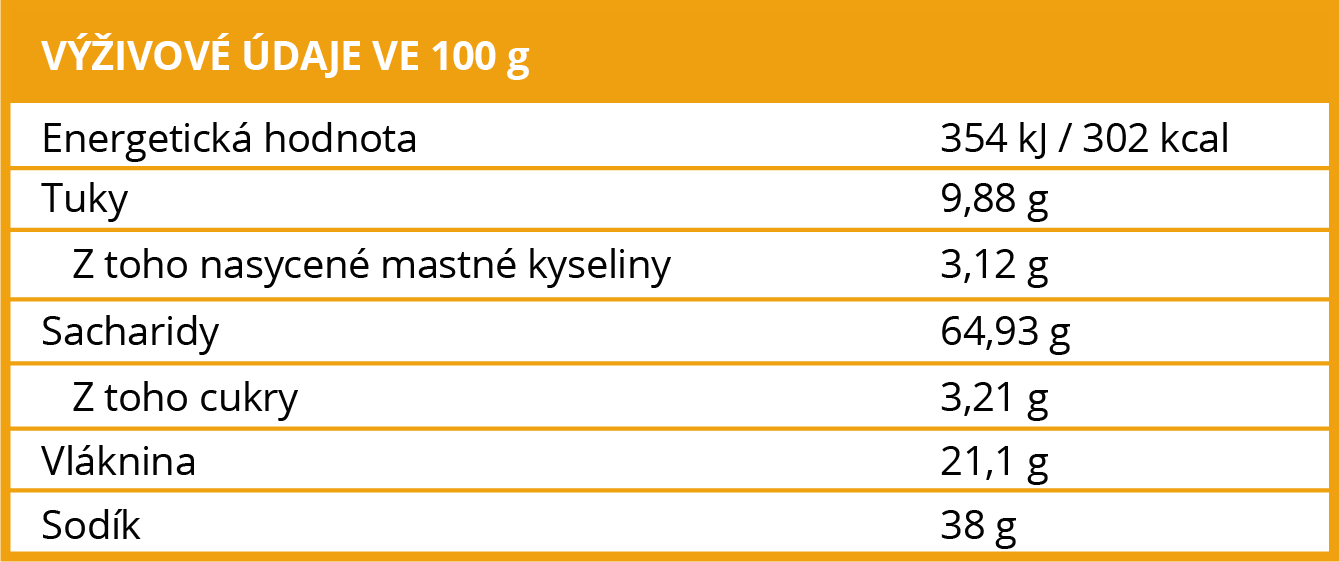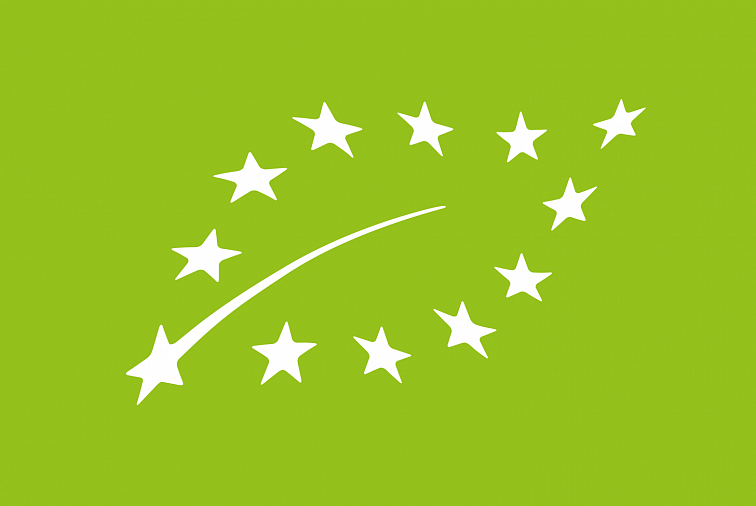 BIO certification CZ-BIO-001
Our Turmeric has a BIO certificate - Production of organic farming outside the EU.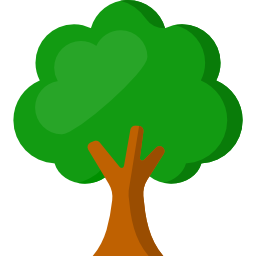 By purchasing, you will also support the Czech forests #tree for order!
Ingredients: 100% Turmeric ( Curcuma longa )
Origin: India
Distributor: Votamax sro, Hladnovská 83/93, Ostrava
Storage: In a dry place, in a closed container.
Weight: 500 g
Additional parameters
Category

:

BrainMax Pure (superfoods)
Weight

:

0.5 kg
Forma

:

Prášek
Typ

:

Superpotravina
Určení

:

Vegan
Velikost balení

:

500 g
Hmotnost:

:

500g
Be the first who will post an article to this item!