BrainMax Pure Organic Yerba Maté, Tropical Fruit, 1000 g, EXP.
Expirace 30/09/2022
Code:
6452/968
Product detailed description
It has the power of coffee and the health benefits of tea
Yerba Maté is a drink with almost magical properties: It improves a number of health markers similar to some drugs, burns fat like some prohibited substances and increases your physical and mental performance and brings euphoria and good mood like some drugs . And all this without negative consequences, addiction or withdrawal syndrome.
We classify yerba among the so-called superfoods. In Paraguay or Brazil itself, where Yerba grows, up to 95% of the population regularly drinks it daily. You can learn more about the effects of yerba at BrainPedia.cz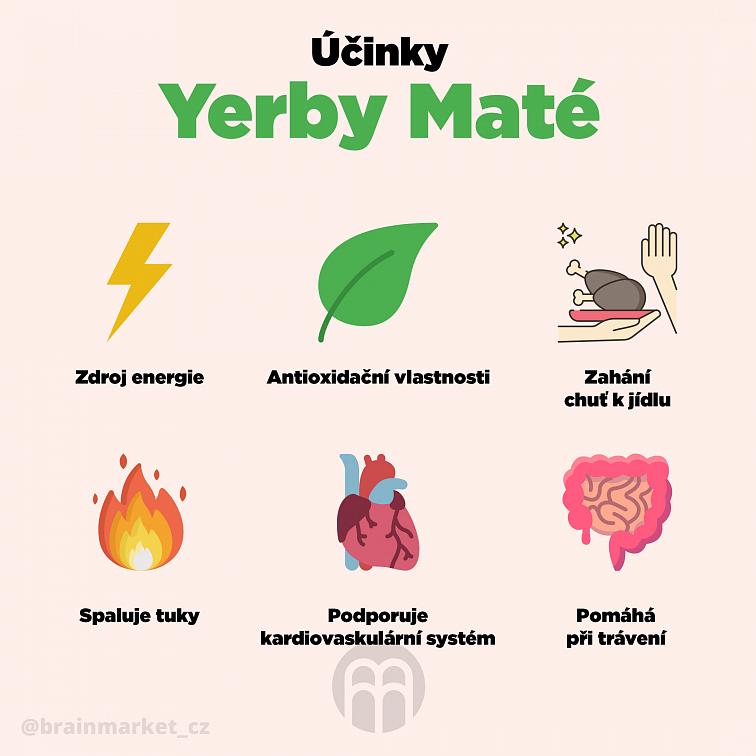 Suitable for all individuals who want to refresh their day with a tropical drink with a sweet aroma
Yerba Maté together with a mix of tropical fruits is suitable for everyone who wants to refresh the day with a delicious drink with a surprisingly sweet aroma. Yerba can be prepared as a classic hot drink or add ice to create a refreshing cold version. It can be recommended to all tropical fruit lovers as well as individuals who focus on weight reduction.
Ingredients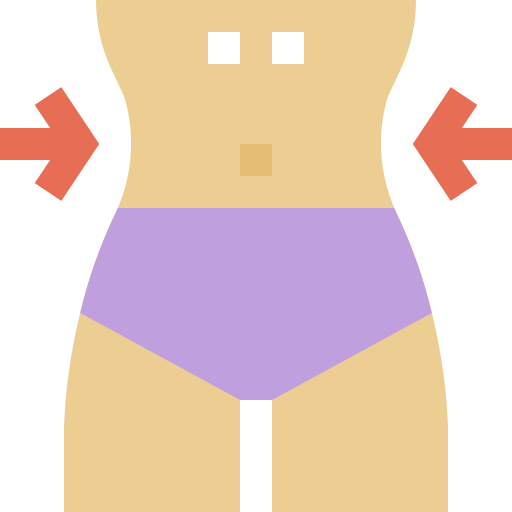 Weight reduction
Drinking Yerba mate regularly has more benefits for our health. It has a positive effect on cholesterol and blood sugar levels. In combination with goji berries and pomelo, which act as antioxidants, we helps speed up metabolism.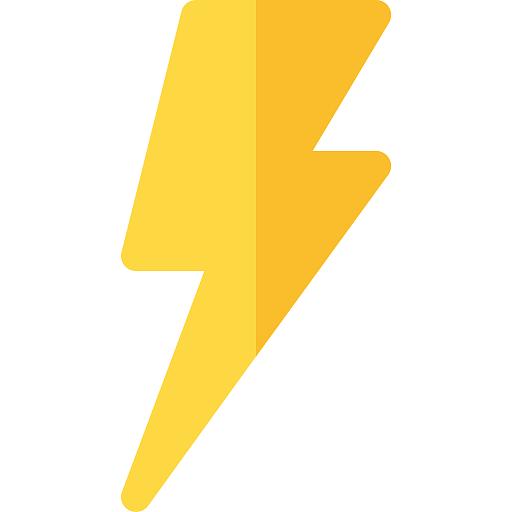 Energy source
Yerba mate is first and foremost an excellent stimulant. The substances contained in Yerba mate are an excellent source of energy, which also improves concentration. It contains caffeine, but also other alkaloids such as theobromine and theophylline.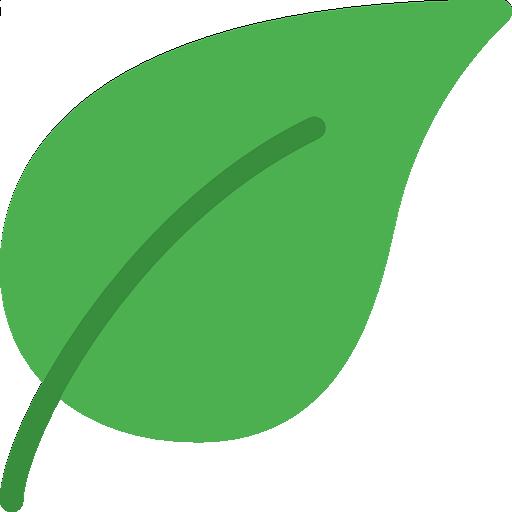 Antioxidant properties
Yerba mate is a significant antioxidant. It contains the polyphenols quercetin and chlorogenic acid, which reduce oxidative stress and help prevent autoimmune disorders.
We have a certificate for it!
We import Yerba Maté directly from South America in bulk. However, it won't warm up for very long, thanks to you customers.
That is why our Yerba is always fresh, and thanks to its origin, it is of very high quality.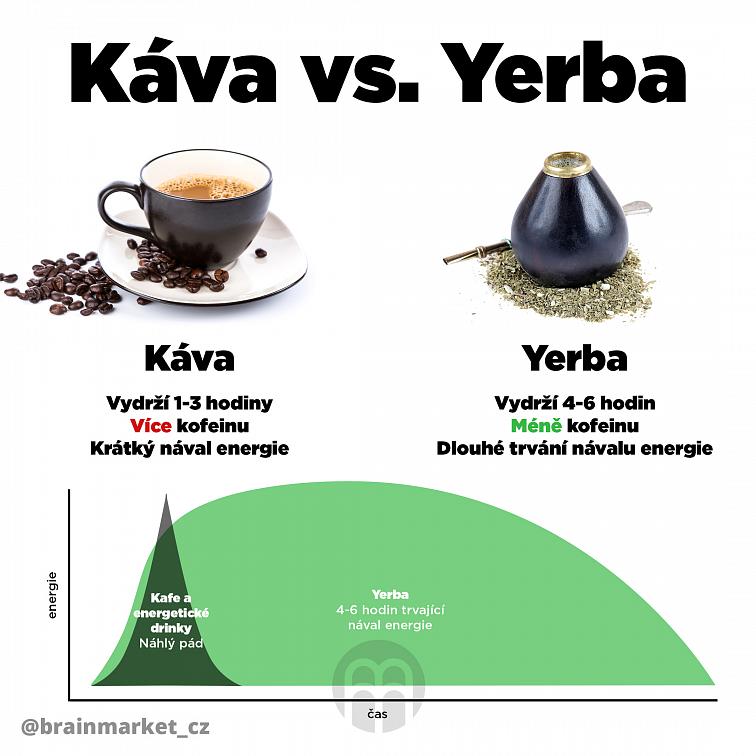 Yerba vs. Coffee
The rush of energy from the start is very similar to the one we all know thanks to coffee. But later? Nothing happens, no slump like with coffee. The effect is much longer , more consistent and smoother . In addition, it is associated with an improved mood and a strengthening of the sense of inner balance and concentration . With Yerba you can learn comfortably, without feeling scattered or nervous, the mind is clear, the streams of thought are coherent and it is possible to get into a flow state, which could be described as a moment of completely focused motivation .
Easily even 6 infusions without loss of taste and effect
Yerba can be watered several times without significantly losing the effects of Yerba. We normally make up to 6 new infusions for one dose of Yerba. So it is not necessary to give "new Yerba" for every other calabash.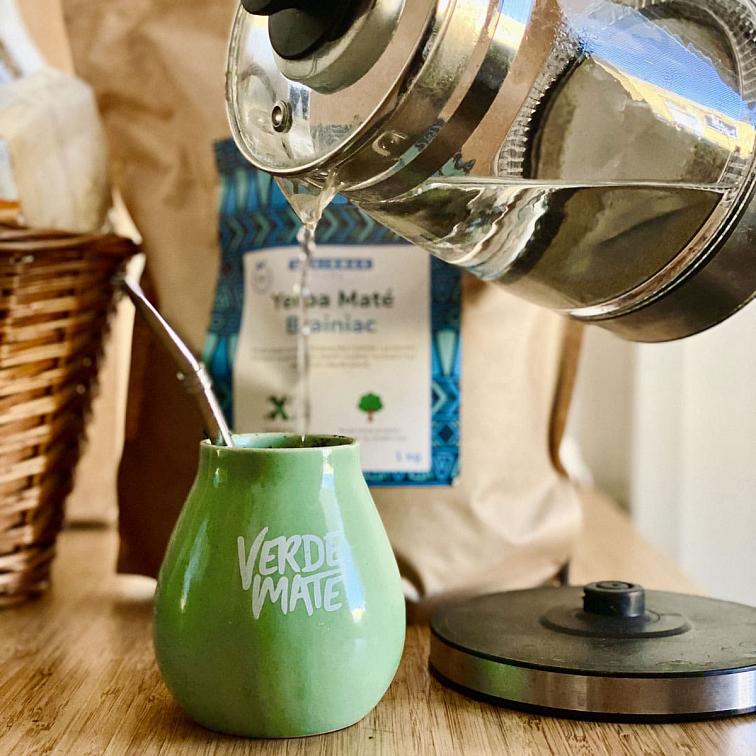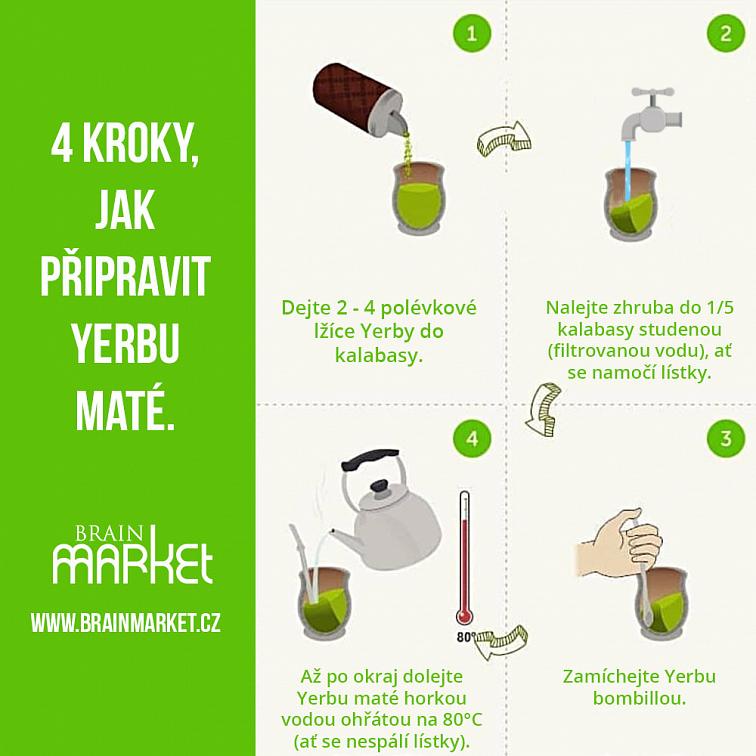 Preparing Yerba is a simple four-step ritual
For the traditional preparation of yerba mate, you will need a calabash and a bombilla , which you can buy at BrainMarket . If you don't have a kettle on which you can set the temperature, then feel free to get one too   thermometer .
If you are a beginner, putting 2-3 tablespoons in the calabash is plenty. The heroic dose for experienced users is 4-5 tablespoons ( it is necessary to work towards it and only for some genotypes). Every Yerba lover will find his optimum . If you feel nervous or anxious, we recommend reducing the dose. We also recommend starting with lower doses if you drink Yerba on an empty stomach.  
Pour some water into the calabash so that the yerba leaves are wet. Meanwhile, set the water to 70 to 80 degrees.
Once the water is ready and the yerba leaves in the calabash are wet, pour the kettle of yerba in the calabash up to the brim.
Let it brew for 3 minutes and then you can drink through the bombilla all day long. You can water the yerba repeatedly.
By purchasing, you will also support Czech forests #treezaobjednavku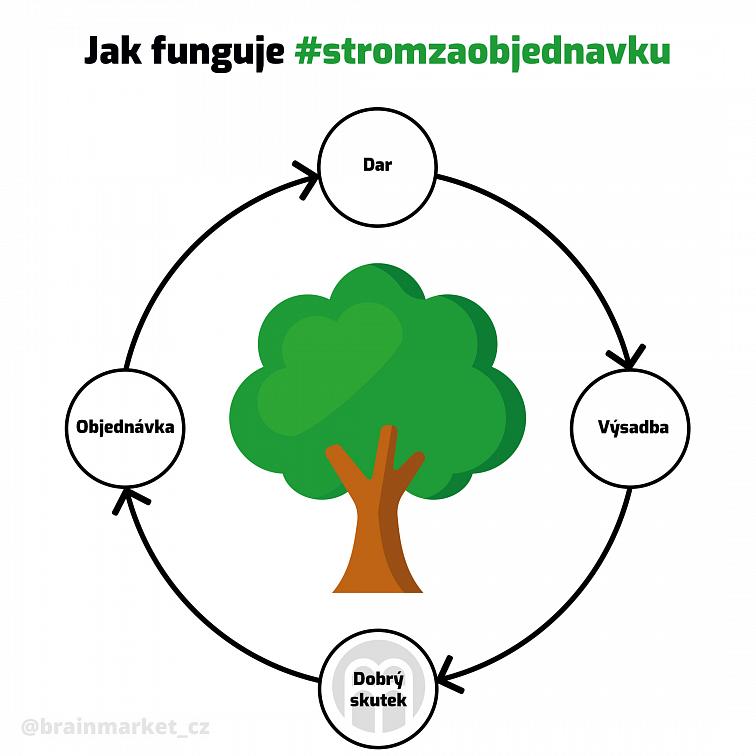 A kilo pack you'll love!
Be the first who will post an article to this item!