Brainmax Pure Hemp Seed Oil, BIO, 250 ml
*CZ-BIO-001 certifikát
Code:
34782
Related products
Product detailed description
Brainmax Pure Hemp Seed Oil, BIO, 250 ml
BrainMax
hemp seed oil
is the richest natural source of essential fatty acids , which the body cannot produce on its own, but is essential for the proper functioning of many systems.
This is mainly due to its essential polyunsaturated fatty acids (PUFAs), including omega 3-6-9 , which it contains in ideal proportions.
You can find out more about hemp oil at BrainPedia.cz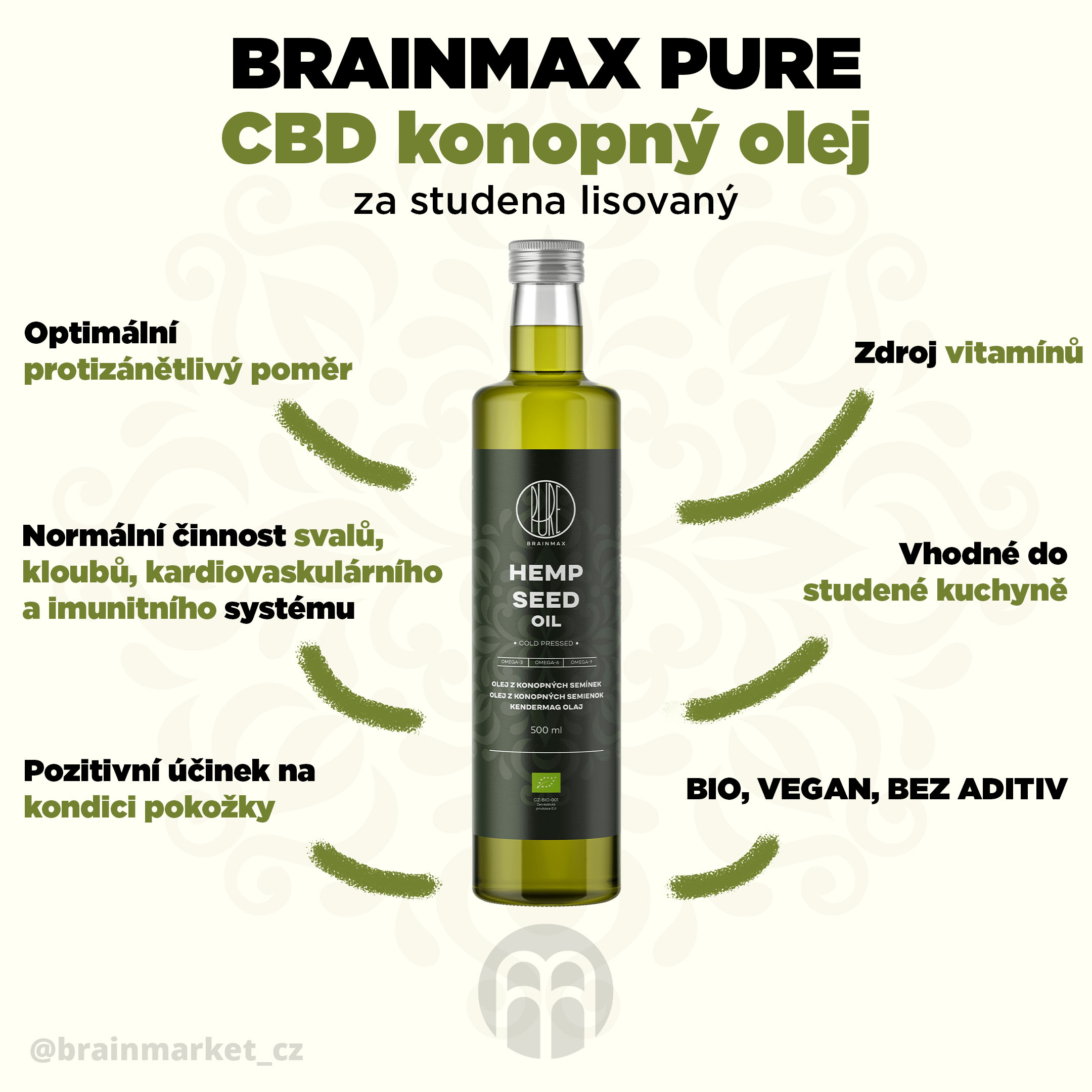 Unique health effects thanks to the combination of omega-3, omega-6 and polyphenols.
Omega-3s are a type of polyunsaturated fat that is good for your health. The three main types are: ALA (alpha-linolenic acid), DHA (docosahexaenoic acid) and EPA (eicosapentaenoic acid).   ALA is an essential fatty acid that our body needs, but it cannot make it on its own, so we need to get it from food. Omega-3 fatty acids have many beneficial effects on our health. However, they are most important for the health of our cells, because they are part of cell membranes .
Omega-6 fatty acids are important for health. They affect cholesterol levels, are essential for the health of bones, hair and the reproductive system. However, they must not be in excess, in which case they become PRO ***. BrainMax Pure CéBéDé hemp oil offers an ideal 3: 1 ratio of unsaturated fatty acids .
Polyphenols are substances commonly found in plants and fruits, they often have significant antioxidant, antimicrobial and anti-inflammatory properties . They reduce the risk of type 2 diabetes, lower blood pressure and blood cholesterol levels, help regulate body weight, counteract the aging of the nervous system and the development of dementia symptoms. They play a key role in the proper bioavailability of unsaturated fatty acids .
Health claims from the on hold list of the State Institute of Public Health. *** The word inflammation must not be used.

Vitamin A, Beta-Carotene
Vitamin A is involved in the normal function of the immune system and maintaining the normal condition of the eyes, skin and mucous membranes.   It plays an important role in the body. Protects the skin from UV radiation, treats eczema and psoriasis. It acts as an antioxidant and neutralizes free radicals, supports the immune system, lung health, slows down the decline of cognitive functions. It acts preventively against macular degeneration and arthritis (rheumatoid arthritis).
Vitamin B1
Vitamin B1 is known as thiamine, which is important in the metabolism of carbohydrates and amino acids. Thiamine is not stored in the human body, so it is important to supplement it daily. Vitamin B1 is important because it promotes digestion and is involved in the conversion of sugars, specifically the breakdown of sugars into glucose. It is therefore essential for glucose metabolism. It also strengthens the immune system, supports the cardiovascular system, muscular system and maintains the function of the central nervous system.
Vitamin B2
Riboflavin has anti-inflammatory properties. It is very much needed for development and growth. It affects the metabolism of sugars, amino acids and fats in the body. It helps against migraines, relieves depressive states, and prevents cardiovascular disease by helping to lower blood pressure and homocysteine levels, which causes heart disease. It also promotes eye health, helps strengthen bones, protects the liver from toxins and reduces liver damage.
Vitamin B3
Vitamin B3 is involved in the production of energy in cells. It affects the metabolism of fats and sugars. It also strengthens the function of the brain, supports the function of the nervous system. It helps lower LDL cholesterol and increase HDL cholesterol, and also lowers blood fats and blood sugar levels, thus supporting the health of the cardiovascular system. Helps protect skin and cells from sun damage.
Vitamin B6
Vitamin B6 is involved in the activities of the nervous system and energy metabolism. It contributes to the production of red blood cells and the normal function of the immune system. It helps to reduce the rate of fatigue and exhaustion and to regulate hormonal activity. It plays a role in maintaining the normal metabolism of proteins, glycogen and homocysteine.
Vitamin C
Vitamin C helps maintain the normal function of the immune system during and after intense physical activity. Furthermore, the formation of collagen for the normal function of blood vessels, cartilage, gums, teeth, bones and skin. It is involved in the activities of the nervous system and energy metabolism. It helps protect cells from oxidative stress, iron absorption and reduce fatigue and exhaustion.
Vitamin D
Vitamin D is a vitamin that is fat-soluble and helps the body absorb phosphorus and calcium. Reduces the risk of cardiovascular disease, peripheral vascular disease. On the contrary, its deficiency can manifest itself in muscle weakness, constipation, irritability and increased bone fragility.
Vitamin E
Vitamin E helps protect cells from oxidative stress. It can relieve dryness and itching with eczema or atopic dermatitis. Vitamin E also improves cognitive function. Vitamin E isomers serve as a protective antioxidant that fights cholesterol oxidation. It has a positive effect on cardiovascular health due to its ability to reduce the activity of an enzyme that controls cholesterol production / synthesis.
Nutritional values

Nutritional values per 100 ml
Energy value
3790kJ / 900 kcal
Fats
100%
of which saturated fatty acids
10%
polyunsaturated fatty acids
76%
monounsaturated fats
14%
*% of daily income reference value
Packing
250 ml

Be the first who will post an article to this item!