BrainMax Pure Goji dried BIO, 200 g
*CZ-BIO-001 certifikát
Code:
999997
Related products
Product detailed description
BrainMax Pure Goji dried BIO, 200 g
The goji that we know as Chinese gooseberry is a traditional fruit used in Chinese medicine. These are smaller red berries that grow on an evergreen shrub. Goji is home to China, Mongolia and Tibet. Goji is rightly called a superfood. Among other things, it contains provitamin A, which promotes eye health. Provitamin A contains lycopene , an antioxidant that promotes cardiovascular health . Goji is full of antioxidants that support the immune system, vitamin C and iron , which act synergistically, because vitamin C promotes the absorption of iron and it is involved in hematopoiesis . Goji berries have one of the highest values of ORAC , which is a unit that indicates the ability of antioxidants to neutralize free radicals. Goji is one of the richest sources of beta-carotene and zeaxanthin . These naturally occurring antioxidants support healthy eye development, improve overall vision and cell health.
Goji is best filled with hot water before consumption, because it is the heat that releases the lycopene that the gooseberry contains. Then we can add gooseberry to porridge, smoothies, but also cakes or raw cookies. Gooseberry should be part of our diet every day, but the recommended daily dose of 10 should not be exceeded. Goji berries can also react with certain antibiotics, antifungals, antivirals, anticancer drugs, antidepressants, cholesterol-lowering drugs, cardiovascular drugs, hormonal drugs, immunosuppressants , and anti- osteoporosis drugs. Users of these medications should not take goji only after consulting your doctor.
You can find out more about goji at BrainPedia.cz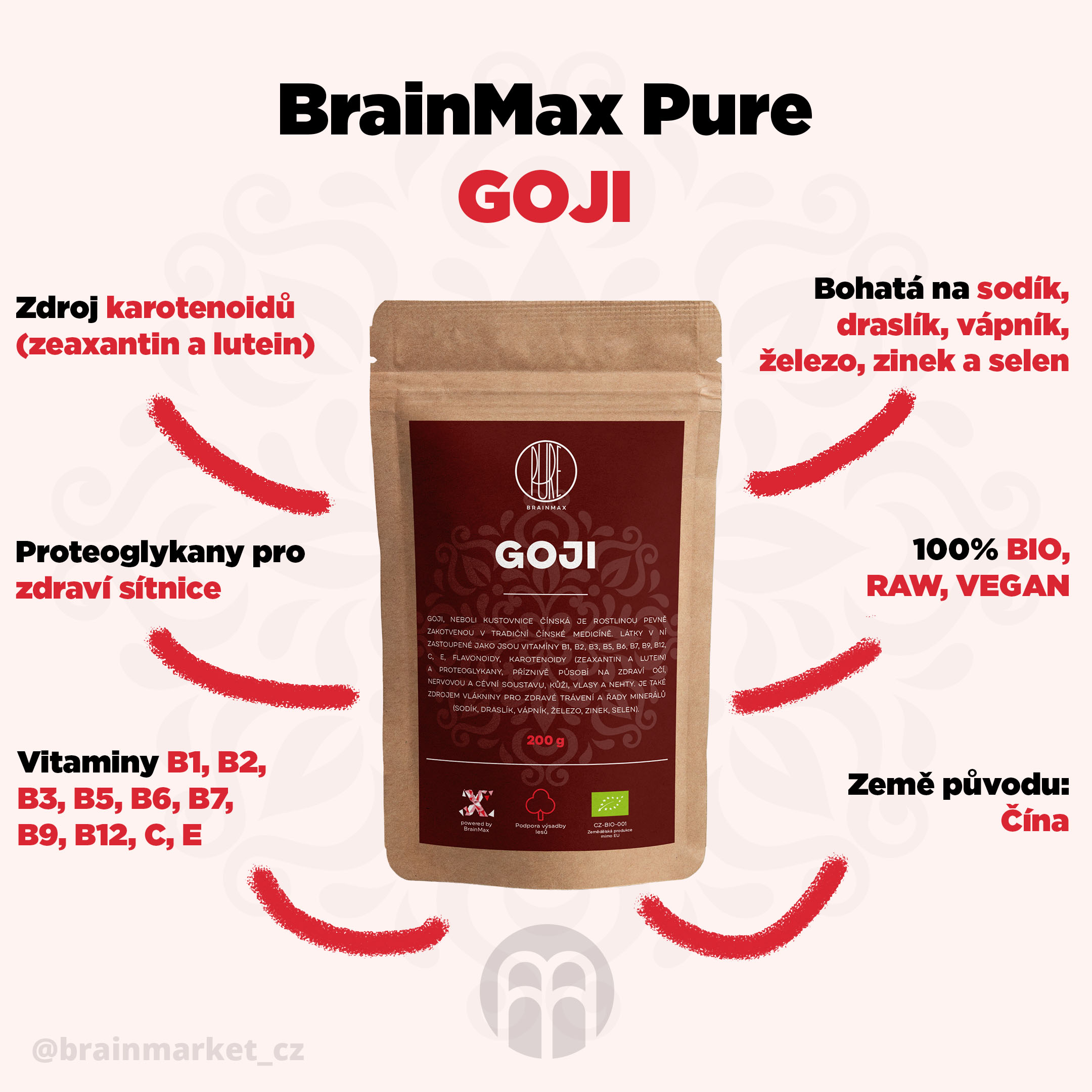 Advantages of BrainMax Pure Goji:
Source of carotenoids (zeaxanthin and lutein)
Proteoglycans for retinal health
Vitamins B1, B2, B3, B5, B6, B7, B9, B12, C, E
Rich in sodium, potassium, calcium, iron, zinc and selenium
100% BIO, RAW, VEGAN
Country of origin: China
Possibilities of using Goji:
You can pour boiling water over the goji and then add it to your favorite smoothie, yogurt or porridge.
A handful of goji a day along with nuts can be part of your daily breakfast or morning snack.
Advantages of BrainMax Pure Goji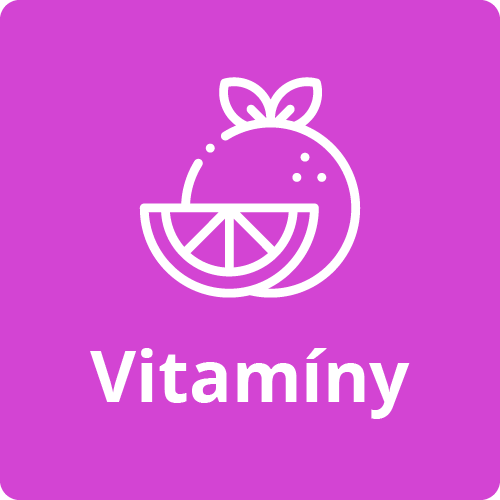 Vitamin C content
Goji contains B vitamins as well as significant amounts of vitamin C, which are involved in the functions of the immune system.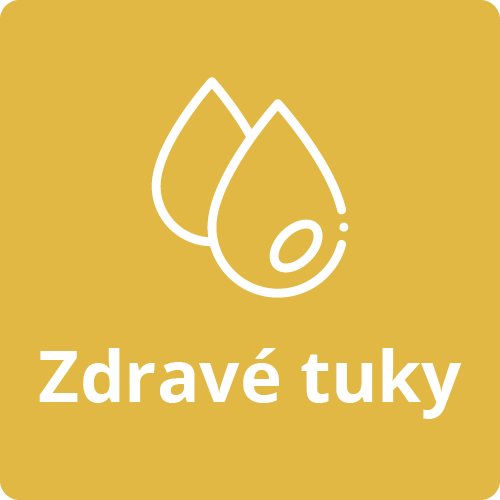 A source of lycopene
Goji is an important source of lycopene. An antioxidant that promotes cardiovascular health.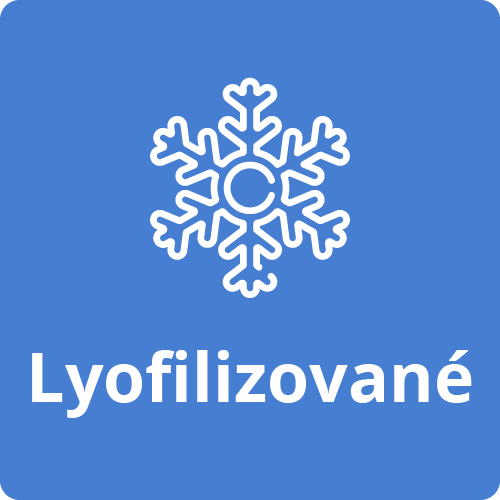 A source of minerals
Chinese gooseberry fruits are rich in minerals, especially iron, zinc, calcium and potassium.
Packaging: 200 g
per 100g
Energy value
1478 kJ / 349 kcal
Fats
3.2 g
- of which saturated fatty acids
0.39 g
Carbohydrates
67.8 g
- of which sugars
51.4 g
Fiber
6.8 g
Proteins
11.9 g
Salt
0 g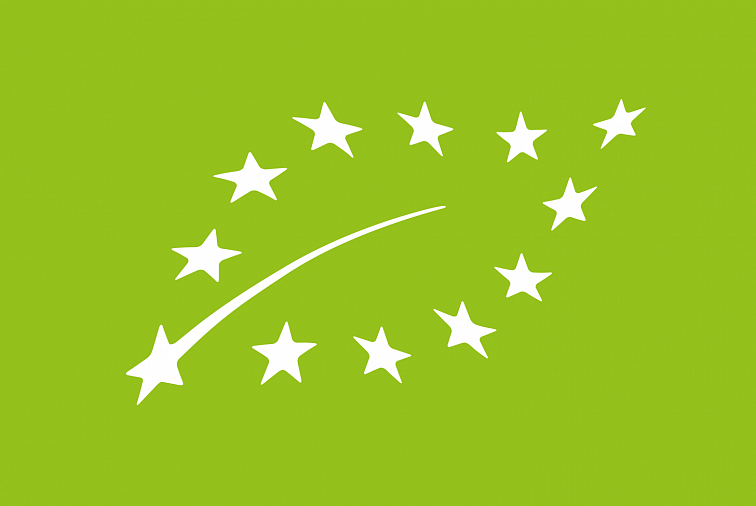 BIO certification CZ-BIO-001
Our Goji has a BIO certificate - Production of organic farming outside the EU.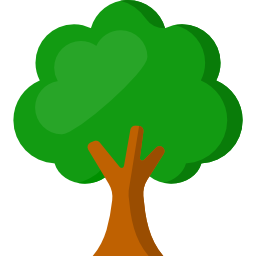 By purchasing, you will also support the Czech forests #tree for order!
Ingredients: 100% Goji (Lycium barbarum)
Origin: China
Distributor: Votamax sro, Hladnovská 83/93, Ostrava
Storage: In a dry place, in a closed container.
Weight: 200 g
Additional parameters
Category

:

BrainMax Pure (superfoods)
Weight

:

0.21 kg
Forma

:

Celé kusy
Typ

:

Superpotravina
Určení

:

Bez lepku
Velikost balení

:

200 g
Be the first who will post an article to this item!