BrainMax Pure Cordyceps powder BIO, 100g
*CZ-BIO-001 certifikát
Code:
6452/336
Related products
Product detailed description
BrainMax Pure Cordyceps powder, 100g
Cordyceps is a legendary Chinese medicinal parasitic fungus that grows in the mountainous regions of Tibet and China. Cordyceps is so prized in traditional Chinese medicine that it was available exclusively to the emperor's family. Probably the most interesting thing about her is that she grows through the body of insects, not only the dead, but also the living one, which this invasion will kill over time. It has been used to promote vitality, physical performance, endurance and to promote libido. It contains vitamins, minerals, proteins, amino acids, coenzyme Q10 and is therefore popular especially among athletes.
You can find out more about cordyceps at BrainPedia.cz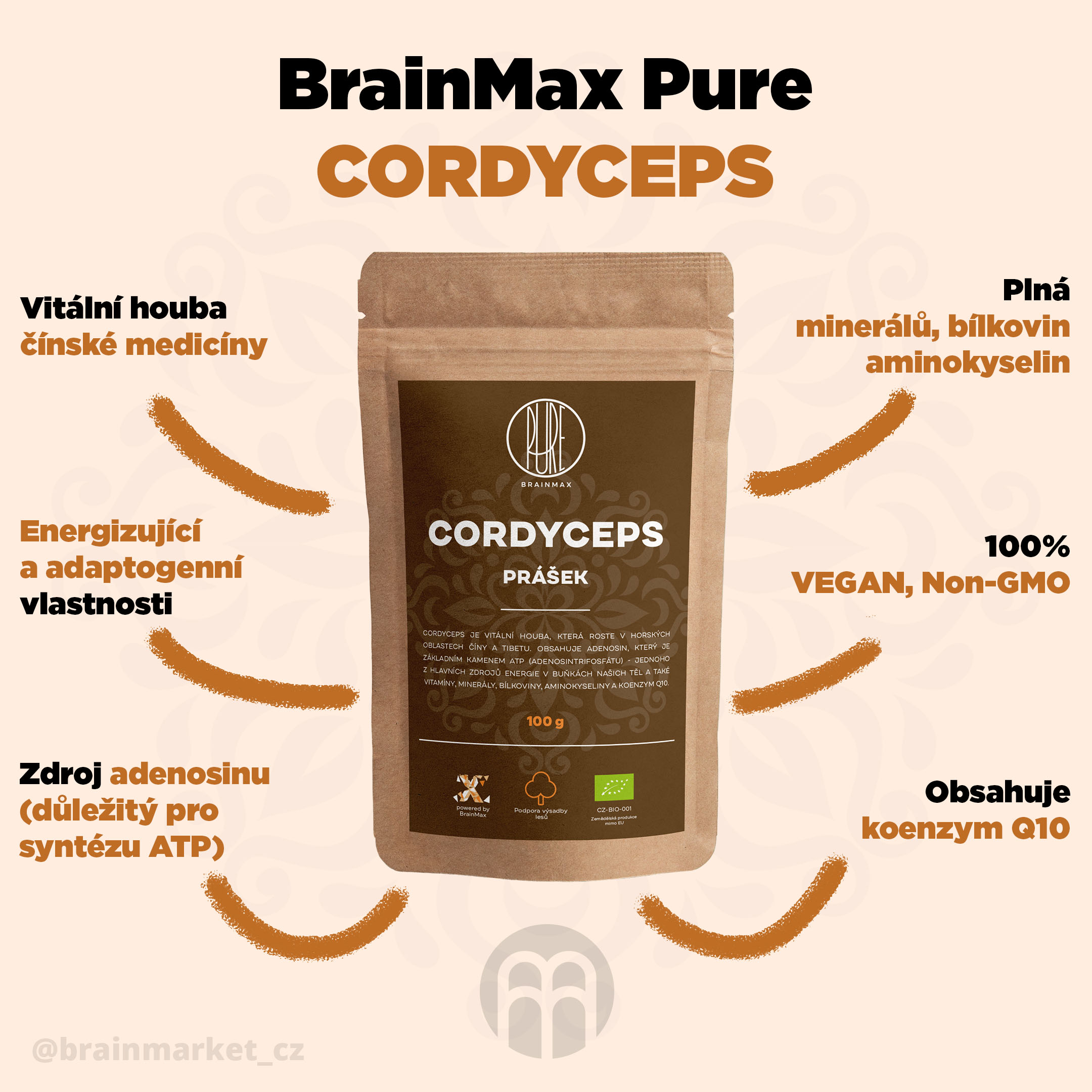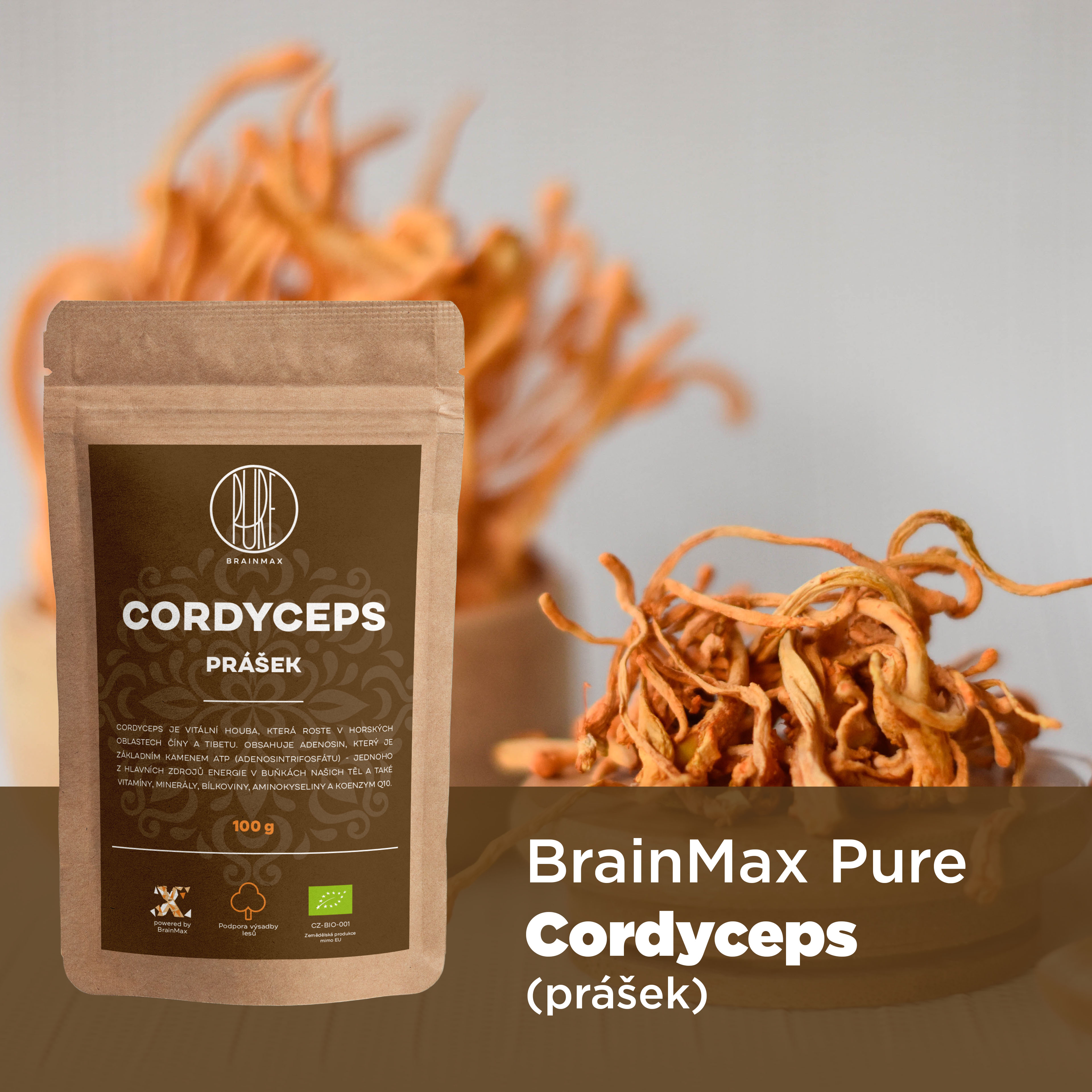 Advantages of BrainMax Pure Cordyceps Powder:
Fungus grown on an organic substrate.
100% VEGAN, Non-GMO
Vitality of the organism
Mental support
Physical endurance
Dosage
1 - 3 g daily with a minimum half-hour interval from food, mix in about 1dcl of water and drink (1 level teaspoon = 2 g of powder).
We recommend taking it 5 days a week and skipping 2 days.
Take on an empty stomach (at least 30 minutes before or 60 minutes after a meal).
Cordyceps should not be taken late at night so as not to disturb sleep.
When using vital mushrooms, we recommend increasing the intake of vitamin C, which increases the absorption of active ingredients. For example in the form of BrainMax Pure Camu Camu .
Advantages of BrainMax Pure Cordyceps powder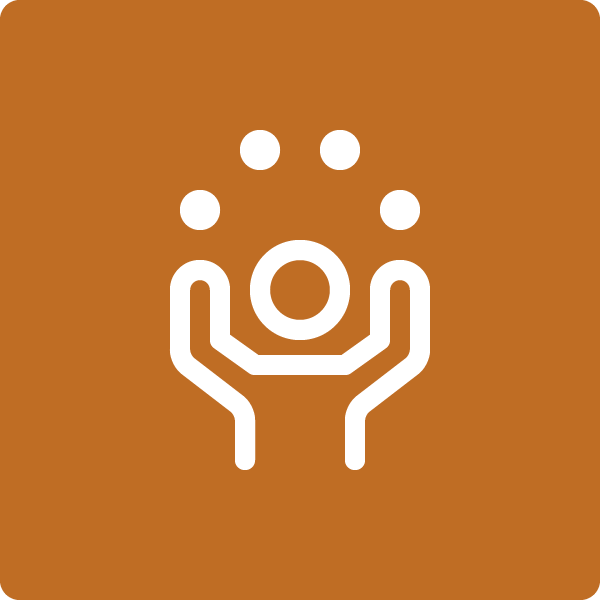 Vitality of the organism
Medicinal mushrooms, including Cordyceps, are used in Chinese medicine to strengthen the body's defenses and overall vitality.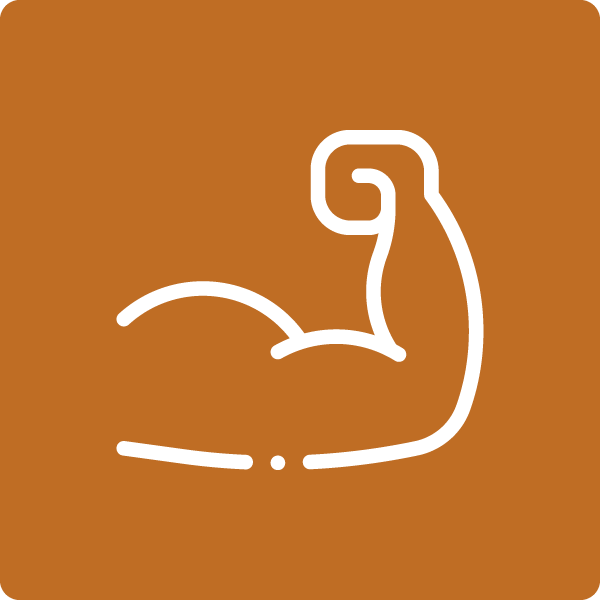 Physical performance
Traditional Chinese medicine believes that Cordyceps has a positive effect on both the mental side and the development of physical endurance.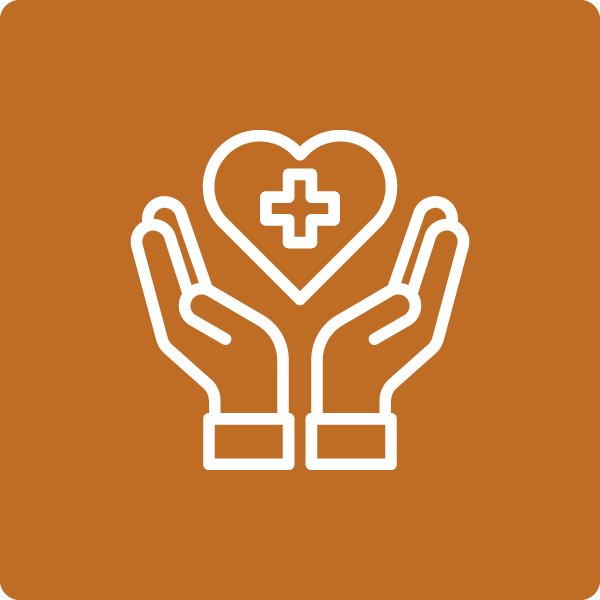 A source of beneficial substances
BrainMax Pure Cordyceps is a rich source of beta-glucans, minerals, trace elements and vitamins .
Packaging: 100 g
per 100g
Energy value
1319 kJ / 314 kcal
Fats
2.7 g
- of which saturated fatty acids
0.7 g
Carbohydrates
32.1 g
- of which sugars

4.7 g
Fiber

26.1 g
Proteins
27.3 g
Salt

<0.1 g
Ingredients: Cordyceps militaris fruit powder (biomass / powder). It does not contain caffeine, gluten, preservatives, dyes or sugar.
Origin: China
Warning : The product is not intended for children under 3 years, for pregnant and breastfeeding women. Do not exceed the recommended daily dosage. Keep out of reach of children. The product does not serve as a substitute for a varied diet.
Distributor: Votamax sro, Hladnovská 83/93, Ostrava
Storage: Store in a dry and dark place.
Volume: 100g
Be the first who will post an article to this item!