BrainMax Pure Cacao, Organic Cocoa from Peru, 500 g
*CZ-BIO-001 certifikát
Code:
98018
Related products
Product detailed description
BrainMax Pure Cacao, Organic Cocoa from Peru, 500 g
Cocoa powder from pure Peruvian beans is a source of polyphenols, theobromine and minerals. In addition, cocoa contains the amino acid tryptophan, which the body uses to produce serotonin and can therefore have a positive effect on the psyche and support energy. Cocoa is also a source of iron , which, unlike some plant mineral sources, is easily absorbed. Therefore, cocoa is a popular source of iron in vegans.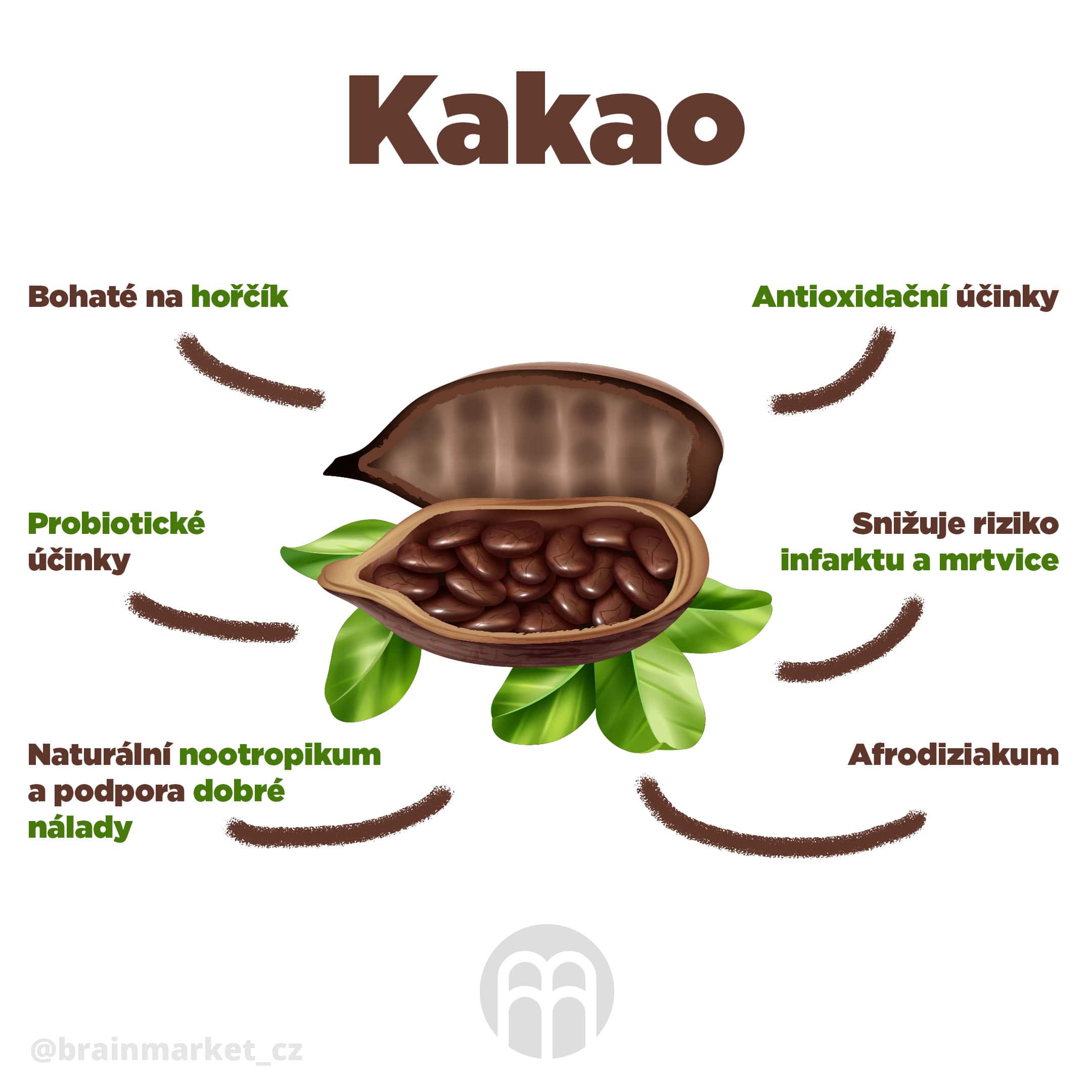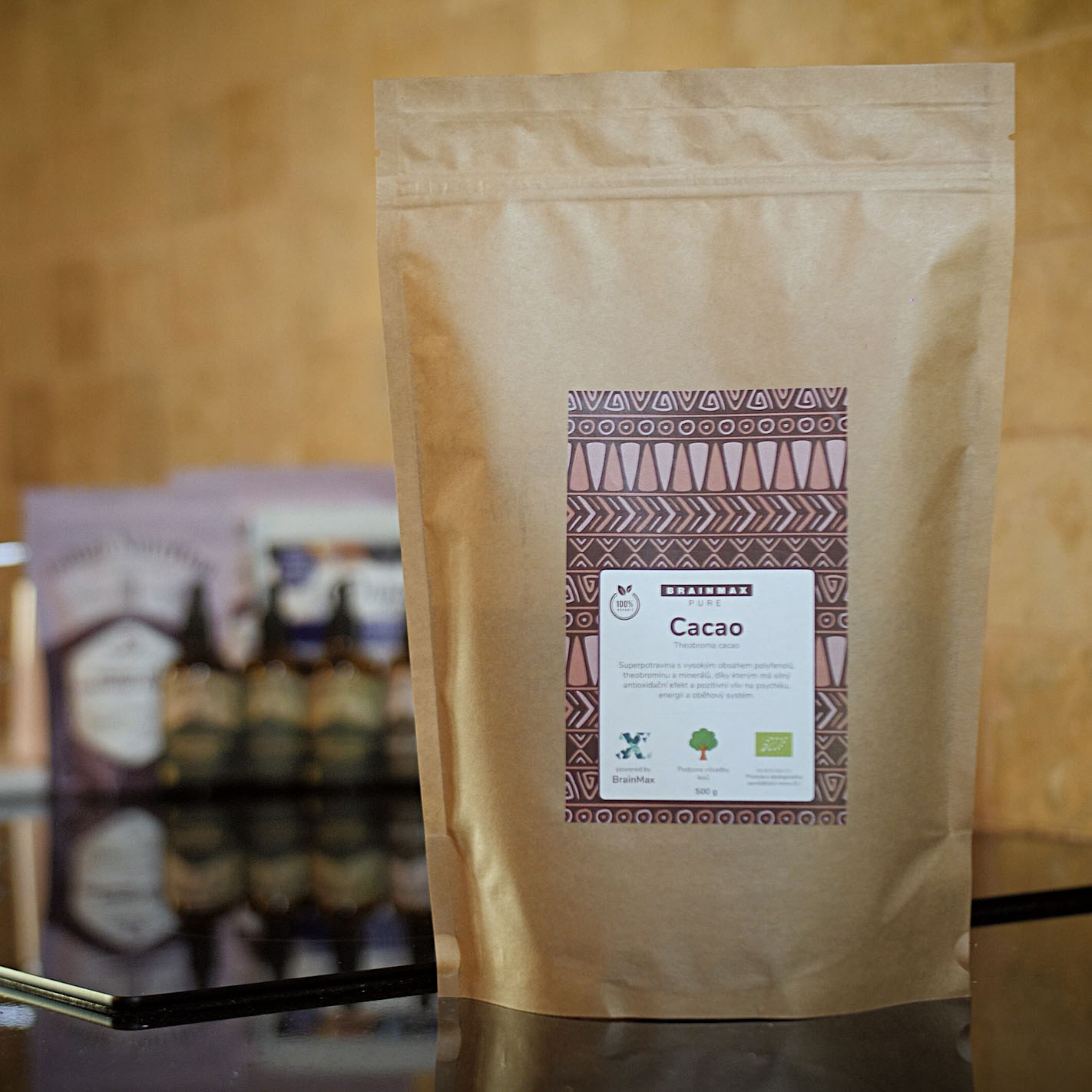 Possibilities of using cocoa
To prepare a simple delicious drink, mix 2 to 3 tablespoons of cocoa with your favorite vegetable milk. If necessary, add your favorite adaptogen : maca , ashwagandha , licorice .
Add a tablespoon of cocoa to your favorite protein shakes.
You will find other possibilities of using cocoa in the kitchen, where you can add it to desserts or baking.
Ingredients: 100% BIO cocoa (Theobroma cacao)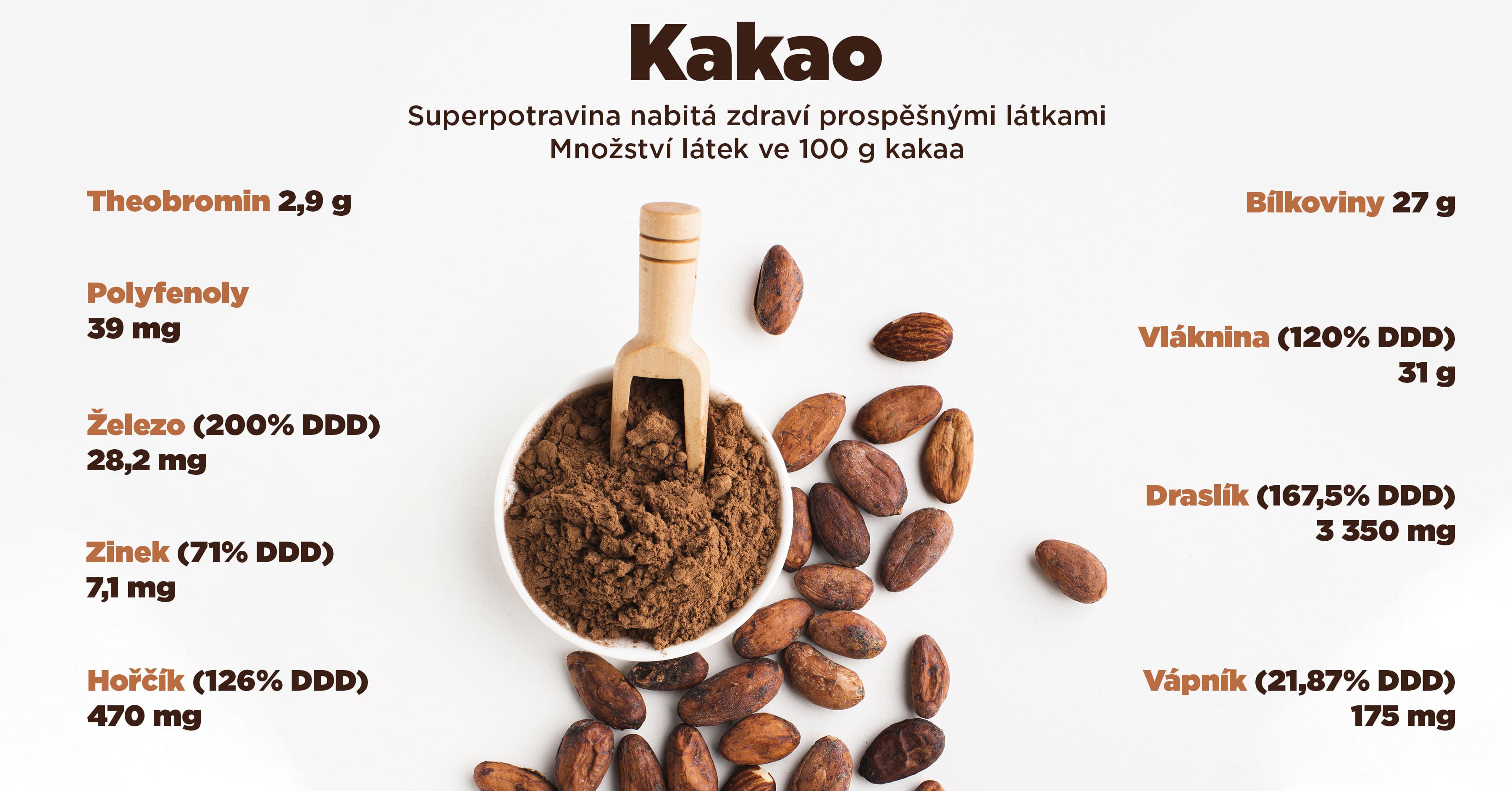 A rich source of minerals
Potassium , calcium , phosphorus , magnesium, iron , ine and copper in perfectly absorbed forms for the human body are a natural part of real cocoa.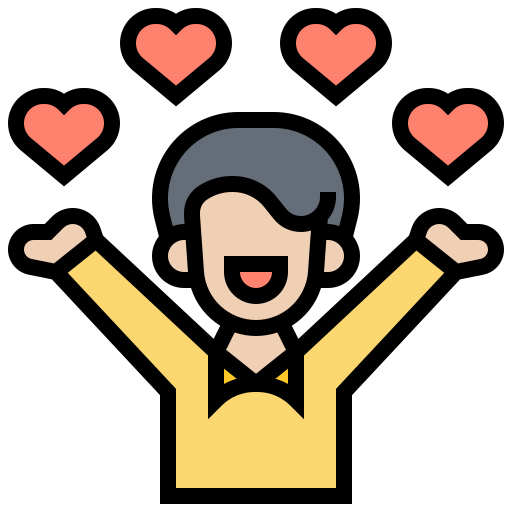 Good mood activator
Cocoa
contains the amino acid tryptophan, which the body uses to synthesize serotonin and thus has a
positive effect on the psyche and energy support.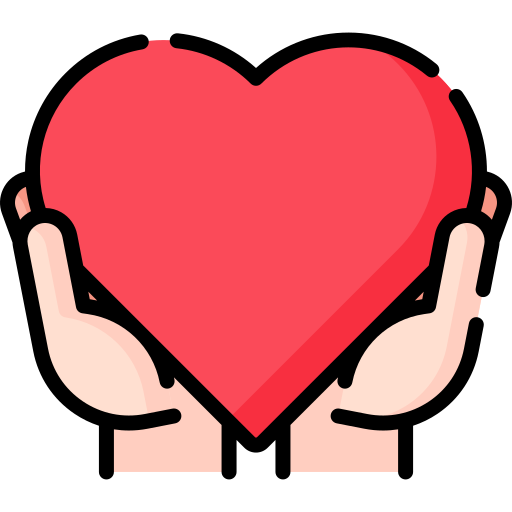 Protection against heart attack and stroke
Cocoa rich in flavanols improves the level of nitric oxide in the blood. Nitric oxide dilates blood vessels, improving blood flow .
Not everything called cocoa is cocoa ...
In the Czech Republic and Slovakia, the name cocoa has been used for every sweetened beverage with a minimum cocoa content. The best cocoa comes from Peru from the gifts of the Mayan civilization. The best RAW cocoa starts with 20% fat and a maximum of 1 g of sugar per 100 g. It is in fats that healthy substances are found. Cocoa is also rich in protein (27 g per gram).
Cocoa is made by grinding unroasted cocoa beans (Theobroma cacao). As a result, it retains beneficial substances that affect the body and mind. Roasting beans significantly reduces the content of flavonoids in cocoa, which have a positive effect on the cardiovascular system. It is also worth mentioning the high content of theobromine. A caffeine-like substance that stimulates the central nervous system. But not as strong as caffeine, so you don't have to worry about falling asleep after cocoa. Tebromine also calms the airways, stimulates the heart or lowers blood pressure.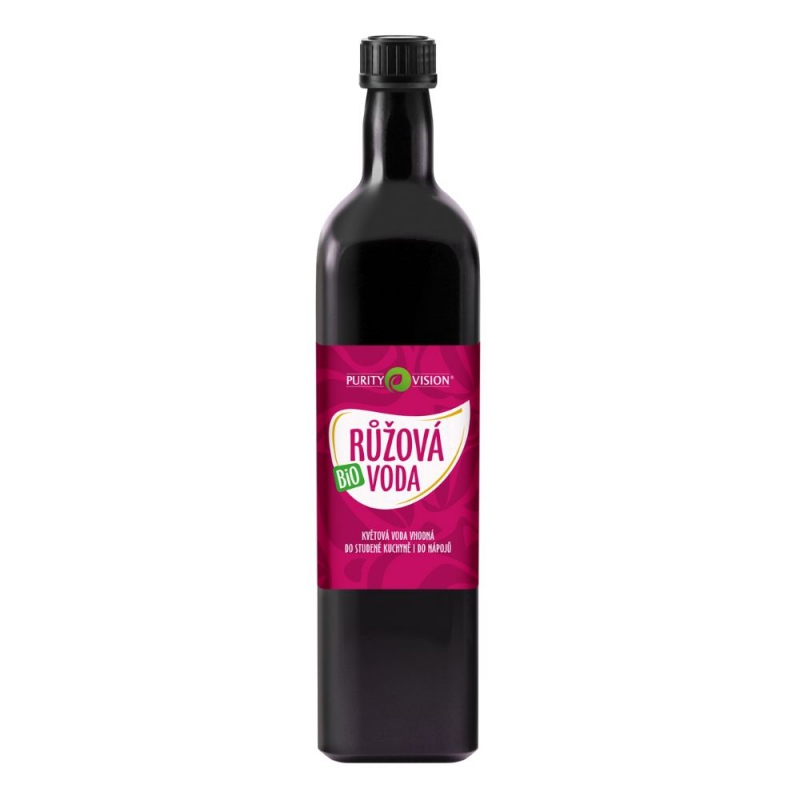 BIO certification CZ-BIO-001
Our cocoa has a BIO certificate CZ-BIO-001 - Production of organic farming outside the EU.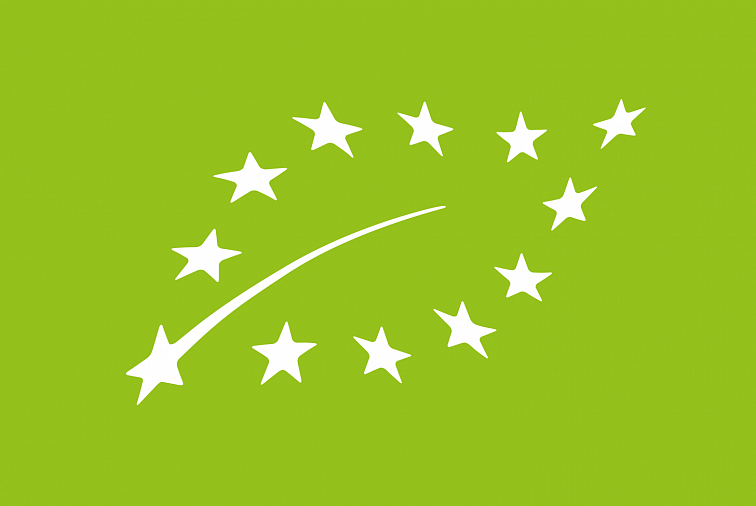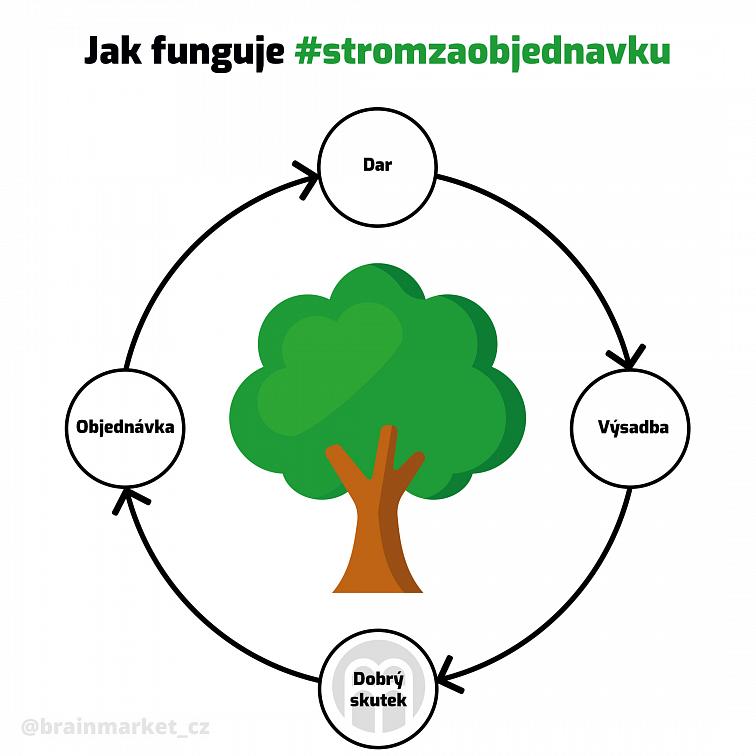 By purchasing, you will also support the Czech forests #tree for order !
Ingredients: 100% BIO Cocoa ( Theobroma cacao )
Origin: Peru
Distributor: Votamax sro, Hladnovská 83/93, Ostrava
Storage: In a dry place, in a closed container.
Weight: 500 g
Příprava Kakaa
Be the first who will post an article to this item!