BrainMax L-Glutamine, L-Glutamine 500 g
Code:
36084
Related products
Product detailed description
BrainMax Glutamine, 500 g
Glutamine is the most abundant amino acid in the body, which serves as the basic building block of protein. In skeletal muscle, glutamine makes up 60% of all amino acids and serves as a mediator for the synthesis of other amino acids. Glutamine is not an essential amino acid, as the body can make it on its own, but its consumption is high due to training or a hectic lifestyle, and this carries with it the risk of breaking down muscle mass. That is why glutamine is a very popular dietary supplement for athletes. Glutamine is found in all proteins ingested in food such as red meat, dairy products, eggs or legumes.
Glutamine serves as an energy source for white blood cells and also plays an important role in muscle and brain activity. Together with L-Lysine, they play a crucial role in cell renewal in the intestinal mucosa, where they make up 70% of the total amino acids. The intestinal mucosa or intestinal barrier can be in a very bad condition due to poor diet and overuse of alcohol, drugs and medication, and glutamine is involved in its regeneration. The intestinal barrier protects us from the leakage of toxins from the intestine into the body.
Why use BrainMax Glutamine?
Muscle mass and regeneration . With intense training or a hectic lifestyle, there is catabolism or loss of muscle mass in the muscles. Due to the fact that glutamine is the most represented amino acid in the muscles (60%), its consumption is high and the first point from which the body takes it is from the muscles, which simply puts us losing muscle mass. Therefore, it is very appropriate to supplement glutamine, even though it is a non-essential amino acid.
Support for the construction of the intestinal barrier . The intestinal lining is largely made up of glutamine, and this amino acid is involved in its regeneration. Due to poor diet, digestion, overuse of drugs, alcohol or excessive stress, this wall preventing the infiltration of toxins into the body can be broken and cause health problems. Therefore, it is appropriate to supplement glutamine and keep the intestinal mucosa in shape.
Synthesis of the strongest antioxidant glutathione . Glutathione is made in our body, specifically in the liver, from glutamic acid, cysteine and glycine. This powerful antioxidant fights reactive oxygen species called free radicals and prevents oxidative stress that destroys cells in our body. At the same time, it acts as a basic weapon of our immunity against bacterial or viral infections.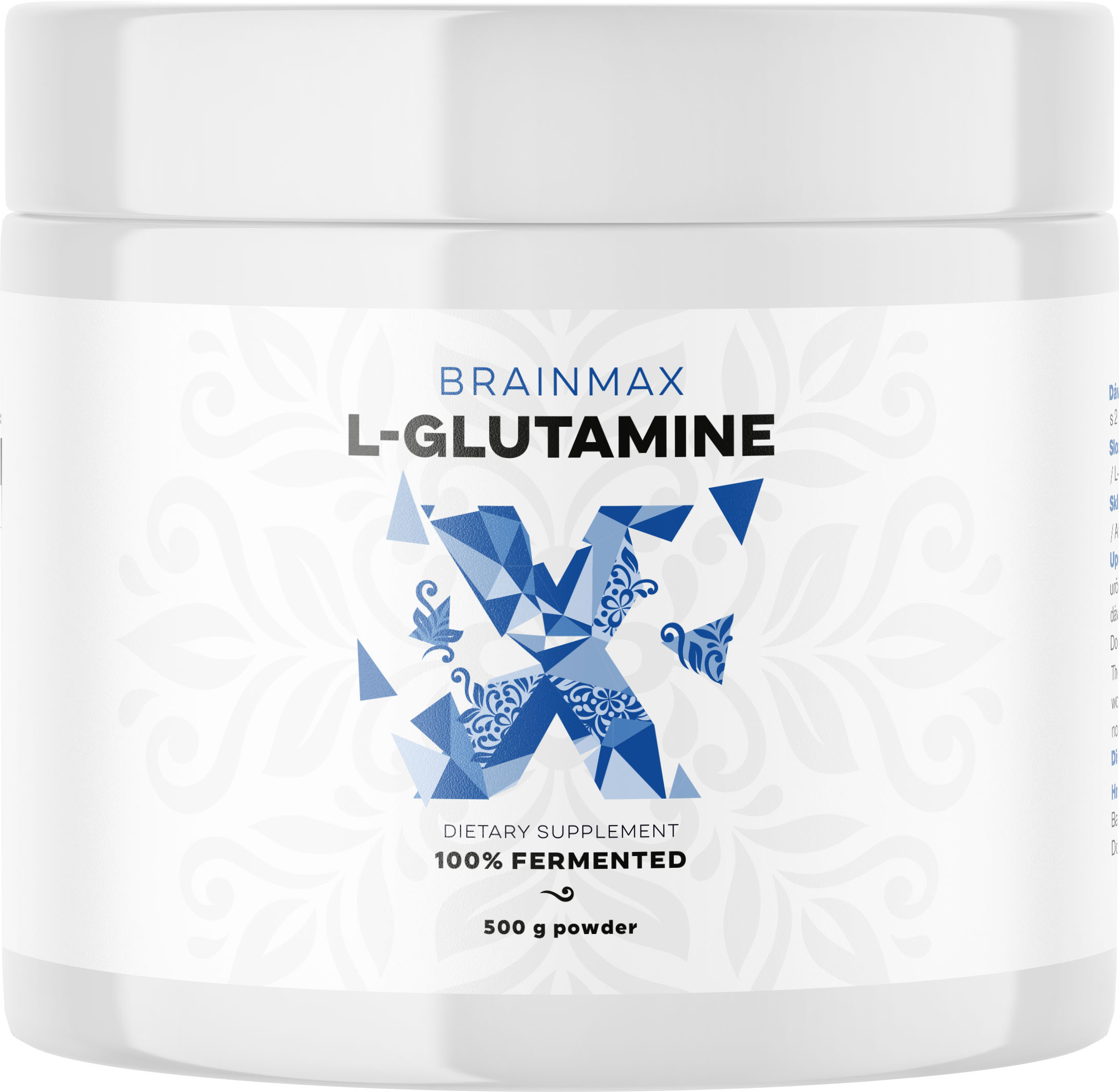 BrainMax L-Glutamine is suitable for individuals focused on:
Muscle mass support and regeneration.
Intestinal barrier support.
Improving sports performance.
Supporting the transfer of nitrogen to the muscles and improving their nutrition and regeneration.
Support of biosynthesis of glutathine, glucosamine or chondroitin.
Dosage:
1 scoop after training or during the day or at bedtime.
Ingredients
Raw material
Content
% RHP *
L-Glutamine (100% natural microbial fermentation)
5 g
**
*% of daily income reference value
** daily income reference value is not set
It does not contain any fillers or stabilizers, only the declared composition in its purest form. The product is also suitable for vegans.
Store at room temperature in a dry and dark place. Keep out of reach of children. The product is not intended for children, pregnant and lactating women. Do not exceed the recommended daily dosage. The product is not intended as a substitute for a varied diet. Maintain a healthy lifestyle.
Made in the Czech Republic for the company Votamax sro
Additional parameters
Category

:

BrainMax
Weight

:

0.55 kg
Forma

:

Prášek
Typ

:

Doplněk stravy
Velikost balení

:

500 g
Be the first who will post an article to this item!