BrainMax Glycine, 500 g
Code:
35892
Related products
Product detailed description
BrainMax Glycine (L-Glycine), 500 g
The amino acid glycine plays a key role in maintaining a healthy central nervous system (CNS).   It is considered one of the most important inhibitory neurotransmitters in the CNS, especially in the brainstem and spinal cord.   Studies show that glycine can help improve memory recovery in individuals with sleep disorders such as jet lag or overwork.   Glycine also plays a key role in phase II liver detoxification by having a direct effect on eliminating toxins or increasing glutathione levels.   Glycine also helps modulate cytokines associated with obesity.
Glycine is one of the three amino acids needed to produce creatine, which in turn supplies energy to muscle and nerve cells. The other two amino acids are arginine and methionine. High concentrations of glycine are found in muscles, skin and other connective tissues. About 30% of collagen consists of glycine.
Glycine also plays an important role in supporting a healthy digestive system by helping to regulate the synthesis of bile acids that the body uses to digest fats. Glycine also plays a role in regulating glucose utilization in energy production.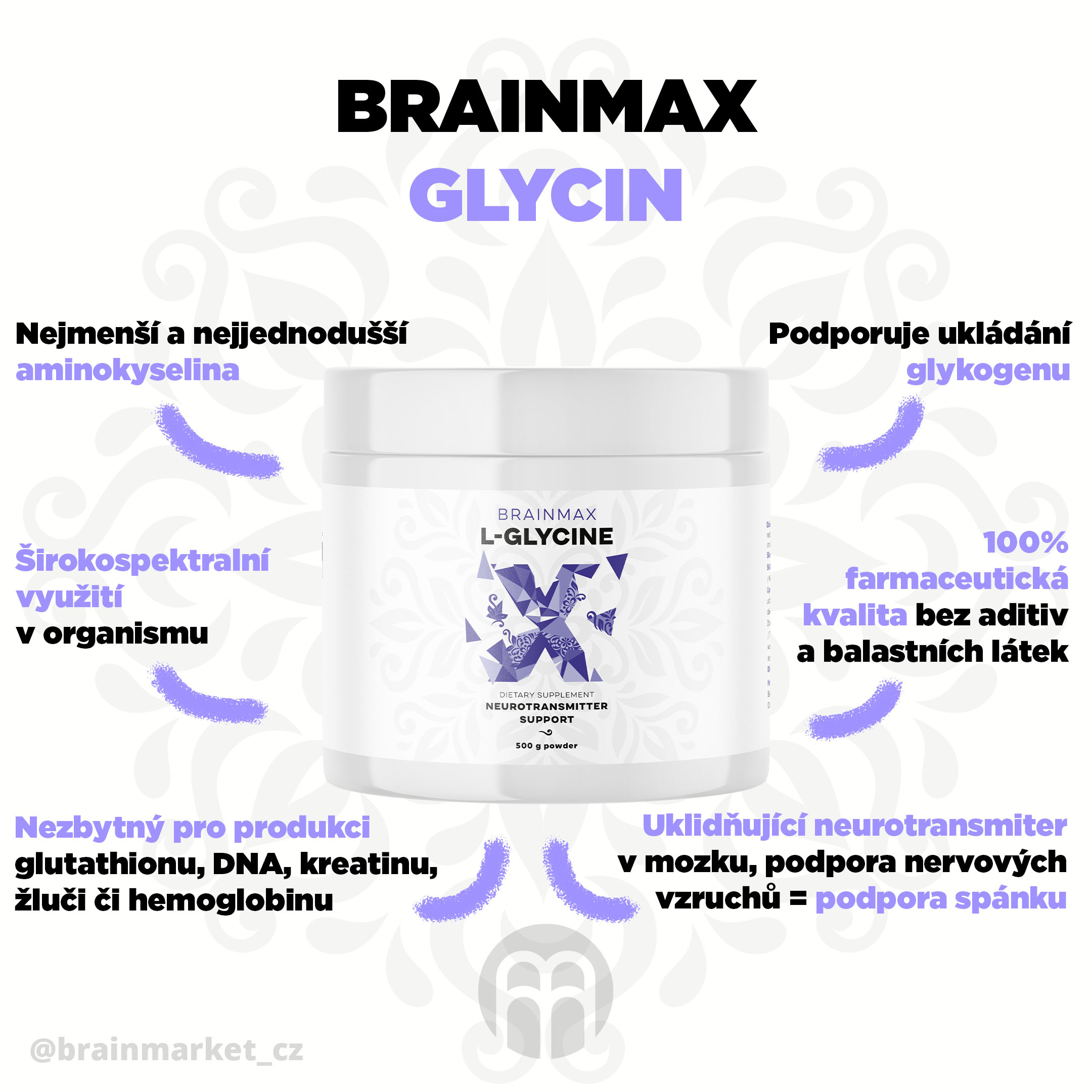 Why use BrainMax Glycine?
Good sleep is one of the most effective ways to take care of our body. But a hectic lifestyle, exposure to harmful blue light, and poor eating habits have affected the quality of our sleep. Glycine offers support for sleep and relaxation. Research shows that when taken at bedtime, glycine can promote healthy quality sleep without causing daytime sleepiness.
Most glycine in the body is used in the body for proteosynthesis, which is the process of building and restoring muscle mass. Free glycine acts as a neurotransmitter involved in the regulation of appetite, behavior and general homeostasis. It plays a vital role in promoting healthy gene expression, cellular antioxidant processes, detoxification, immune function, growth, development, metabolism and survival. Like other carbon monoxide molecules, glycine is associated with longevity in certain species .
Glycine is needed for collagen production.   Glycine has been shown to maintain normal muscle mass.   At the same time, glutathione is needed in the production of one of the strongest antioxidants in our body.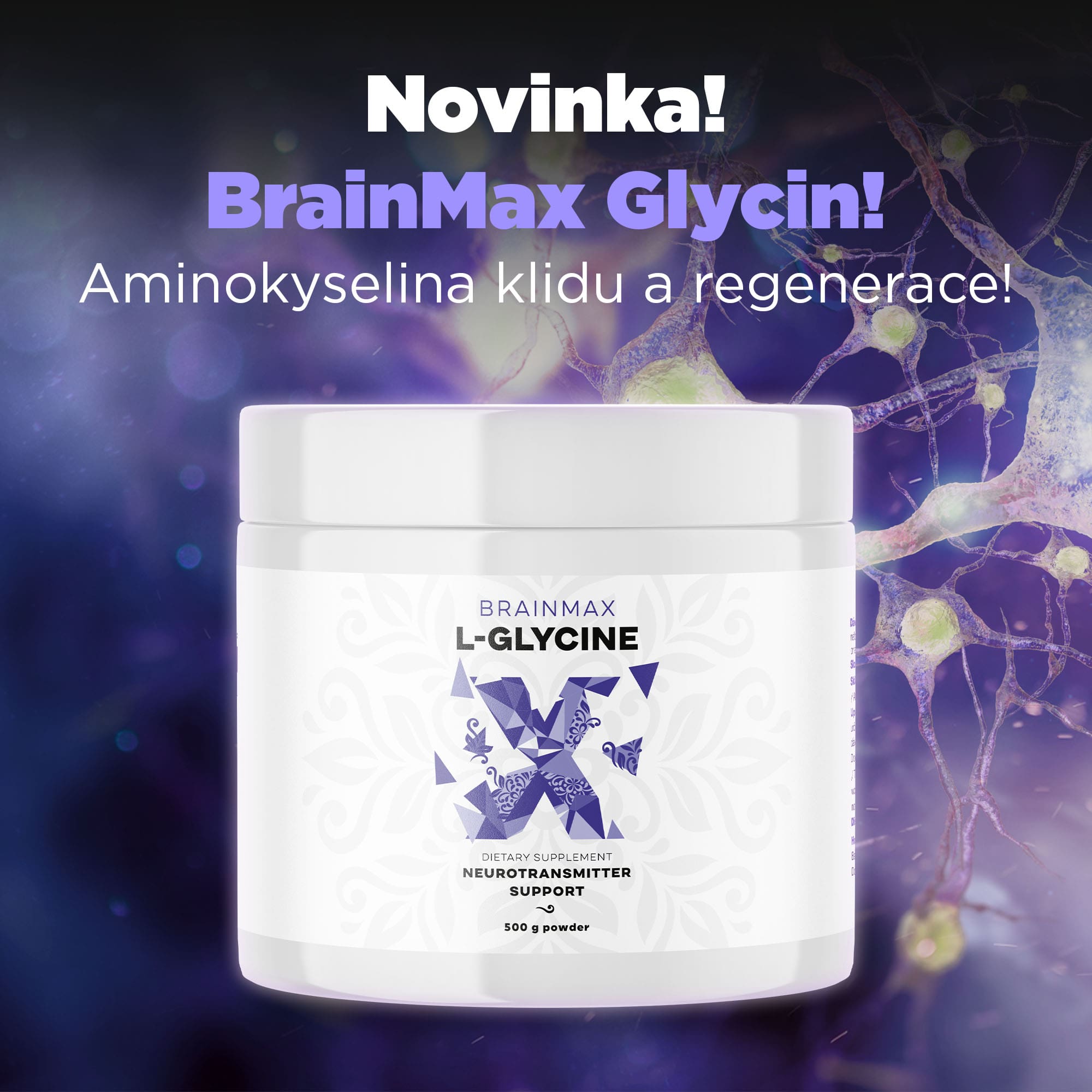 BrainMax Glycine is suitable for individuals focused on:
Calming the body and internal tension.
Relaxation support.
Calm sleep.
Regeneration and support of muscle mass.
Nervous system support.
Dosage:
1 scoop after training or 30 minutes before bedtime.
Ingredients
Raw material
Content
% RHP *
Glycine
5 g
**
*% of daily income reference value
** daily income reference value is not set
It does not contain any fillers or stabilizers, only the declared composition in its purest form. The product is also suitable for vegans.
Store at room temperature in a dry and dark place. Keep out of reach of children. The product is not intended for children, pregnant and lactating women. Do not exceed the recommended daily dosage. The product is not intended as a substitute for a varied diet. Maintain a healthy lifestyle.
Made in the Czech Republic for the company Votamax sro
Additional parameters
Category

:

BrainMax
Weight

:

0.55 kg
Hmotnost

:

500 g
Be the first who will post an article to this item!