BrainMax - Epsom salt, 1kg
Code:
23217
Related products
Product detailed description
Brainmax Epsom salt
New in ECO paper packaging!
The Epsom salt is a compound of magnesium and sulfate. Magnesium is very important for the body, reduces inflammation, helps muscle and nerve function and helps produce the hormone responsible for the feeling of happiness - serotonin. Sulphates are also very important, they improve the absorption of nutrients into the body and, conversely, they help flush out toxins and also alleviate migraines.
You will feel the beneficial effects of the bath right after the first try - it relaxes the nervous system, helps heal skin problems, soothes back and limb pain, relieves muscle tension and helps rid the body of harmful substances. Regular baths also affect the heart rhythm, reduce blood clots and also blood pressure. The bath also helps soothe leg pain, relieves swelling, and softens hardened skin on the heels. After a bath, you will feel reborn in every way.
You can find more information about Epsom salt at BrainPedia.cz
Benefits
natural source of magnesium and sulfur
suitable for preparing a relaxing and regenerating bath
helps to get rid of physical and mental tension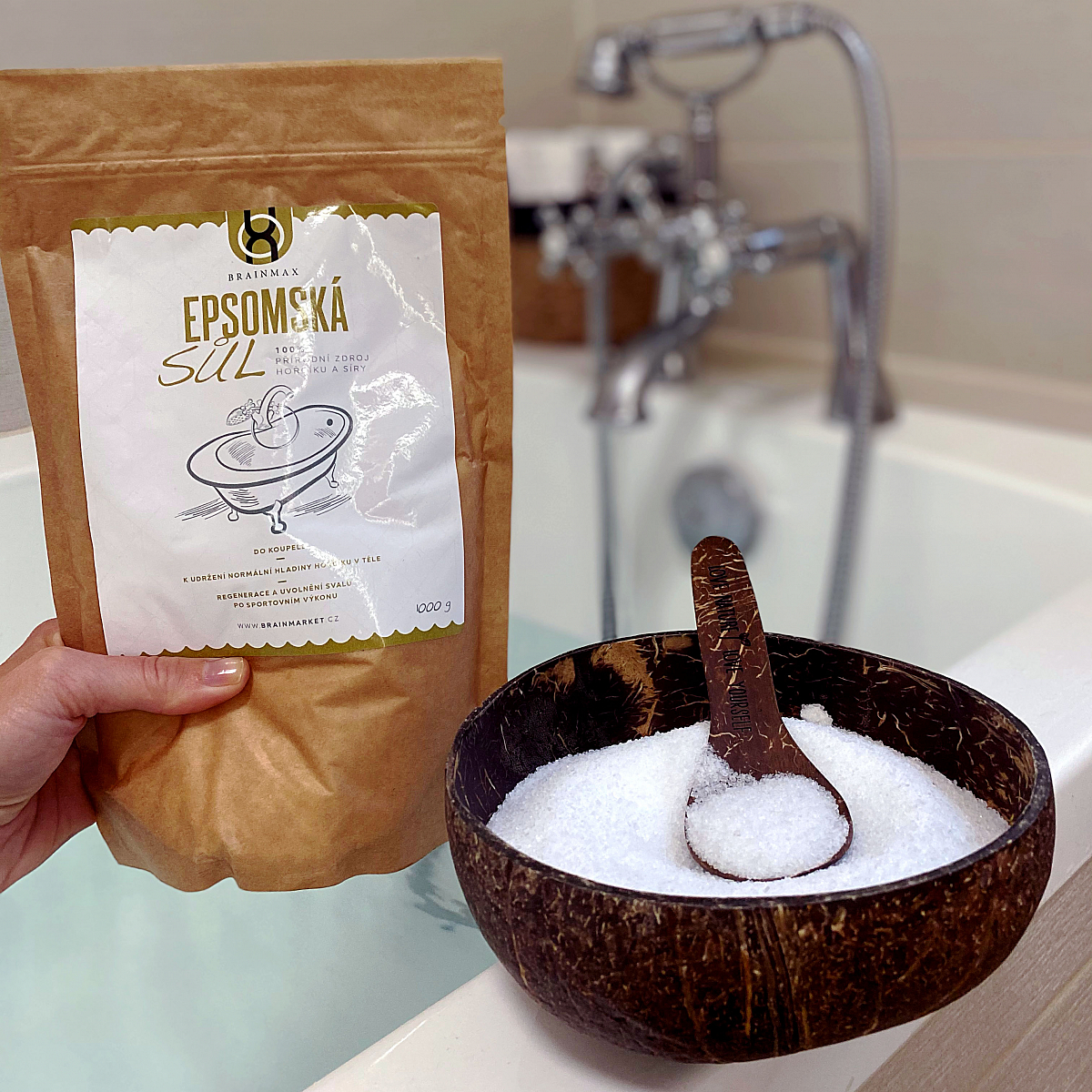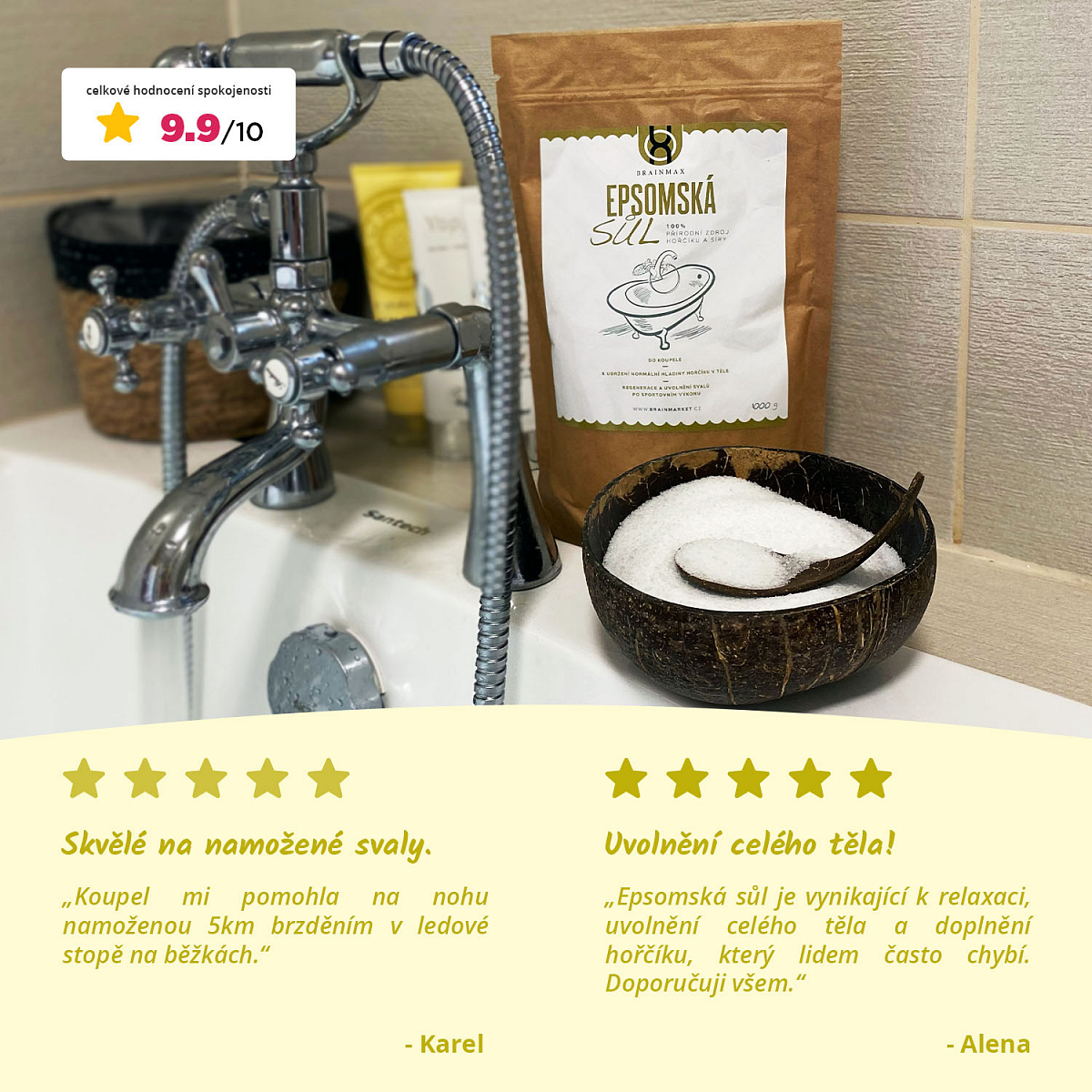 Use
Epsom salt can also be used for other purposes, so we can prepare a peeling from it, which helps reduce cellulite on the buttocks and thighs, or it can be added to the cleansing gel and applied to the face. It rejuvenates, hydrates the skin and of course cleanses.
You can also apply it on your hair by adding Epsom salt to the conditioner. Thanks to the high content of minerals, the hair can look fuller and can thus repair and strengthen damaged hair ends, especially suitable for problems with creped hair. If you have a problem with oily hair, Epsom salt can soak up excess sebum and rid you of this problem.
Helps reduce water retention and fight bloating . Use epsom bath salt with 2 cups of salt 3 times a week, which has the effect of reducing water retention in the abdomen and therefore the effect is a flat belly. These baths also help against bloating.
It acts as a laxative in constipation, it is used to detoxify the body, cleanse the digestive system, restore pH balance, clean the gallbladder and colon, against bloated abdomen, pressure and bloating. Helps against fatigue and anorexia.
Epsom salt tastes bitter and in the food industry can be used, for example, for liver cleansing, adjusts the pH, has anti-caking and firming effects. It is added to baking powder, milk, cheese, bread or as a dietary supplement and to mineral waters.
The experience of our customers
"Baths with her are excellent. Great for tired legs and cysts "
"She does what she has to do, the bath is very pleasant."
Did you know that?
Epsom salt is not Glauber's salt and it is important not to confuse them, especially when cleansing the intestines, as Epsom salt is magnesium sulphate, which does not burden the kidneys as much as the composition of Glauber's salt (sodium sulphate).
Ingredients
100% magnesium sulfate heptahydrate
Bath preparation
Pour 1 cup of salt into warm water and relax for 20 minutes.
Additional parameters
Category

:

BrainMax
Weight

:

1.119 kg
Forma

:

Koupelová sůl
Pro jedince řešící

:

Relaxace, Regenerace
Typ

:

Koupelová sůl
Velikost balení

:

1 kg
Be the first who will post an article to this item!