BrainMax Citrullable Malate, Citrulline Malate, 500 g
Code:
35886
Related products
Product detailed description
BrainMax Citrulline Malate, Citrulline Malate 500 g
Citrulline as an amino acid and malate as malic acid are a unique combination whose results you will feel in increasing endurance and strength [1,3] or improving regeneration [2] . Malate is involved in increasing the cellular energy of ATP (the last phase of the Krebs cycle) and citrulline reduces the production of lactic acid and ammonia (ammonia), which prolongs the duration of exercise and also reduces fatigue and muscle soreness.
Citrulline is converted in the body to another amino acid, arginine, which is involved in the production of nitric oxide, NO . Nitric oxide or NO plays a key role in vasodilation. Thanks to the higher blood flow in the blood vessels, the muscles are better perfused and therefore pumped, which also results in a better supply of nutrients to the muscles.
Why use BrainMax Citrulin Malate?
Nitric oxide as a signaling molecule for vasodilation is a very important component not only for individuals who exercise and feel greater muscle pumping . Tissue perfusion is also excellent due to a better supply of nutrients , which improves regeneration and, last but not least, NO is very useful for cardiovascular condition.
Research suggests that citrulline malate helps break down lactic acid, which delays fatigue and improves endurance , so it is a suitable supplement for athletes.
Citrulline is more potent than L-Arginine in increasing NO, and in the form of citrulline malate, it is also better absorbed and degraded more slowly, thereby increasing blood NO levels over time.
Citrulline is involved in the metabolic process of converting ammonia (ammonia) into urea, which is then excreted from the body as a waste product of protein digestion.
It contains no ballast substances or flavors, only 100% citrulline malate.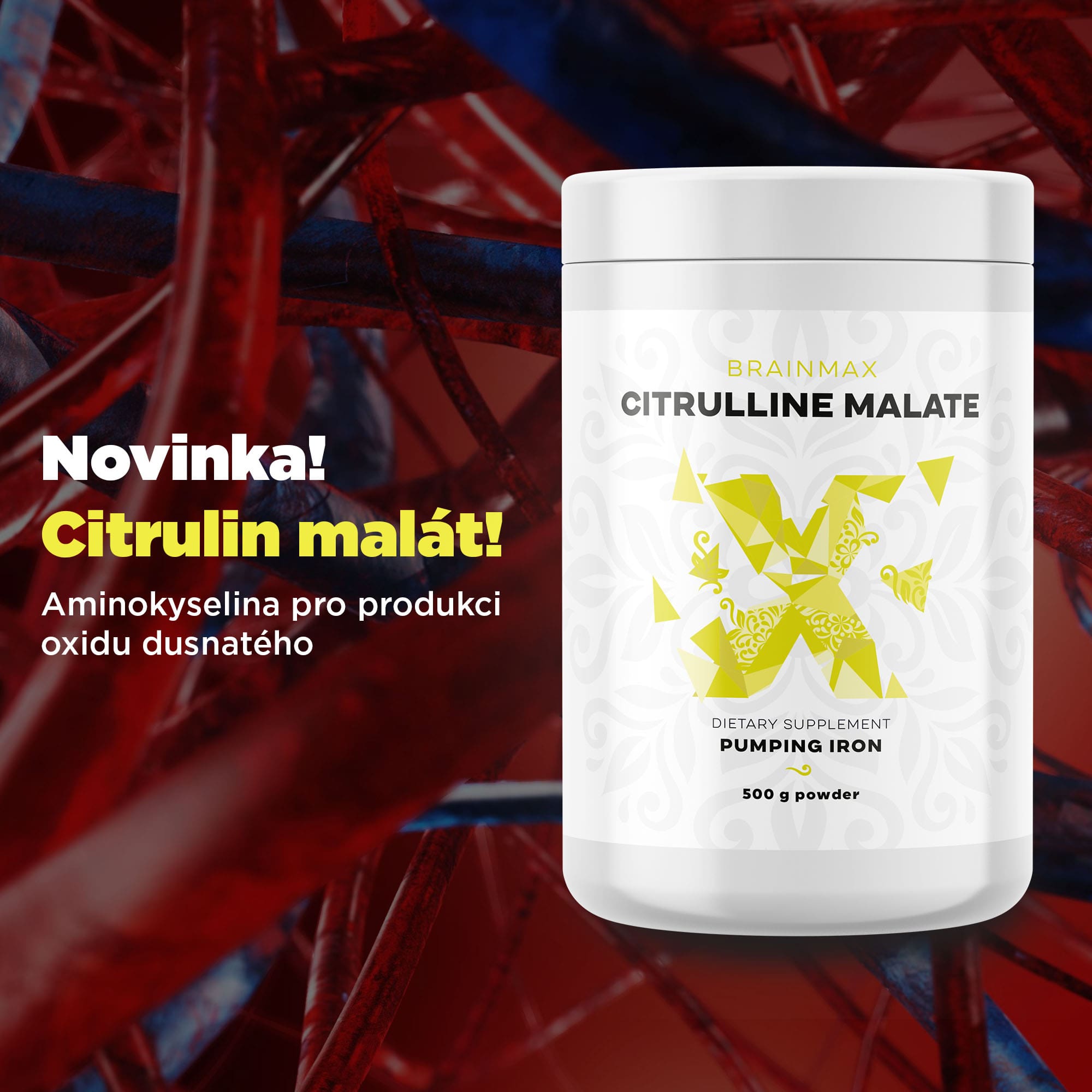 BrainMax Citrulline Malate is suitable for individuals oriented to:
Muscle pump and muscle perfusion.
Increasing sports performance.
Delaying fatigue during sports performance.
Regeneration.
Increasing NO.
Removal of waste products from the body.
Dosage:
1 scoop 30 minutes before exercise with 2 dcl of water.
Ingredients
Raw material
Content
% RHP *
Citrulline Malate (2: 1)
6 g
**
*% of daily income reference value
** daily income reference value is not set
It does not contain any fillers or stabilizers, only the declared composition in its purest form. The product is also suitable for vegans.
Store at room temperature in a dry and dark place. Keep out of reach of children. The product is not intended for children, pregnant and lactating women. Do not exceed the recommended daily dosage. The product is not intended as a substitute for a varied diet. Maintain a healthy lifestyle.
Made in the Czech Republic for the company Votamax sro
Additional parameters
Category

:

BrainMax
Weight

:

0.58 kg
Hmotnost

:

500 g
Be the first who will post an article to this item!