BrainMax CéBéGé & CéBéDé synergy 10%, 10 ml
Code:
CEBEDE9952

Professional consulting
We are experienced. We are happy to advise!

We test what we sell
We verify the high quality of the products.

Fast shipping
We really have the products in stock.

Free shipping
When purchasing over CZK 1,500.
Related products
Product detailed description
BrainMax CéBéGé & CéBéDé synergy 10%, 10 ml
BrainMax CéBéGé & CéBéDé synergy oil contains a combination of a very potent CéBéGé oil (10%) with the CéBéDé component (3%).
Researchers are constantly researching the effects of CéBéGé and there are more studies with a positive effect on the human body . Each cannabinoid has huge untapped potential, and we can look forward to new scientific insights over the next few years. While CéBéDé has been a well-known commodity for several years, CéBéGé is a newcomer to the industry . One of the reasons is the fact that CéBéGé is contained in a smaller amount in the plant and thus it is relatively difficult to extract it from the plant . In other words, CéBéGé is a rarer item and for some individuals its effect may be even better than CéBéDé , because it works a little differently in the body . Together, however, they create a complementary pair that moves the effect of cannabinoids one step higher.
You can find more information about Cébédé and Cébégé at BrainPedia.cz
No psychotropic effect! We take only the best from plants!
When using CéBéGé and CéBéDé, you do not have to worry about the psychotropic effect known from the infamous cannabinoid TéHáCé. CéBéDé or CéBéGé cannabinoids do not have a narcotic effect on the body and psyche. While using our products, you will not feel unwanted changes in your state of consciousness and you do not have to be afraid to sit behind the wheel or by police.
Health claims made on CéBéGé and CéBéDé (hemp oil)
Normal heart function - Immune system.
Normal skin condition.
Normal blood glucose level.
Normal activity of the cardiovascular system - cholesterol level.
Normal activity of muscles and joints.
Natural defenses - immune system.
* Approved health claims for hemp oil pursuant to Regulation (EC) No 1924/2006 of the European Parliament and of the Council on nutrition and health claims made on foods, as amended ("Regulation (EC) No 1924/2006").
How do CéBéGé and CéBéDé work?
The mechanism of action of cannabinoids on our body could be compared to unlocking locks in our endcanabinoid system (ES), where cannabinoids are keys and ES receptors are locks . By using CéBéDé or CéBéGé, we release keys into the body, which unlock locks - receptors in the cells. This whole network of receptors forms our endocannabinoid system (ES), which according to scientific knowledge affects everything from mood , memory , motor functions through the functioning of the immune system , reproduction , bone growth to the perception of pain , appetite or sleep . The main function of the EC is to maintain the internal balance of the organism. According to the latest studies, CéBéDé and CéBéGé are helping to restore the body to internal balance by acting on endocannabinoid receptors.
Who is CéBéGé and CéBéDé for?
CéBéGé and CéBéDé are suitable for individuals dealing with regeneration, pain, anxiety, mental performance or bacterial infections .
Basic properties
Organic and vegan ingredients.
Product made in the EU.
Combination of CéBéGé and CéBéDé - synergistic effect increasing health benefits.
Extracted by the most gentle and efficient method of supercritical CO2 extraction.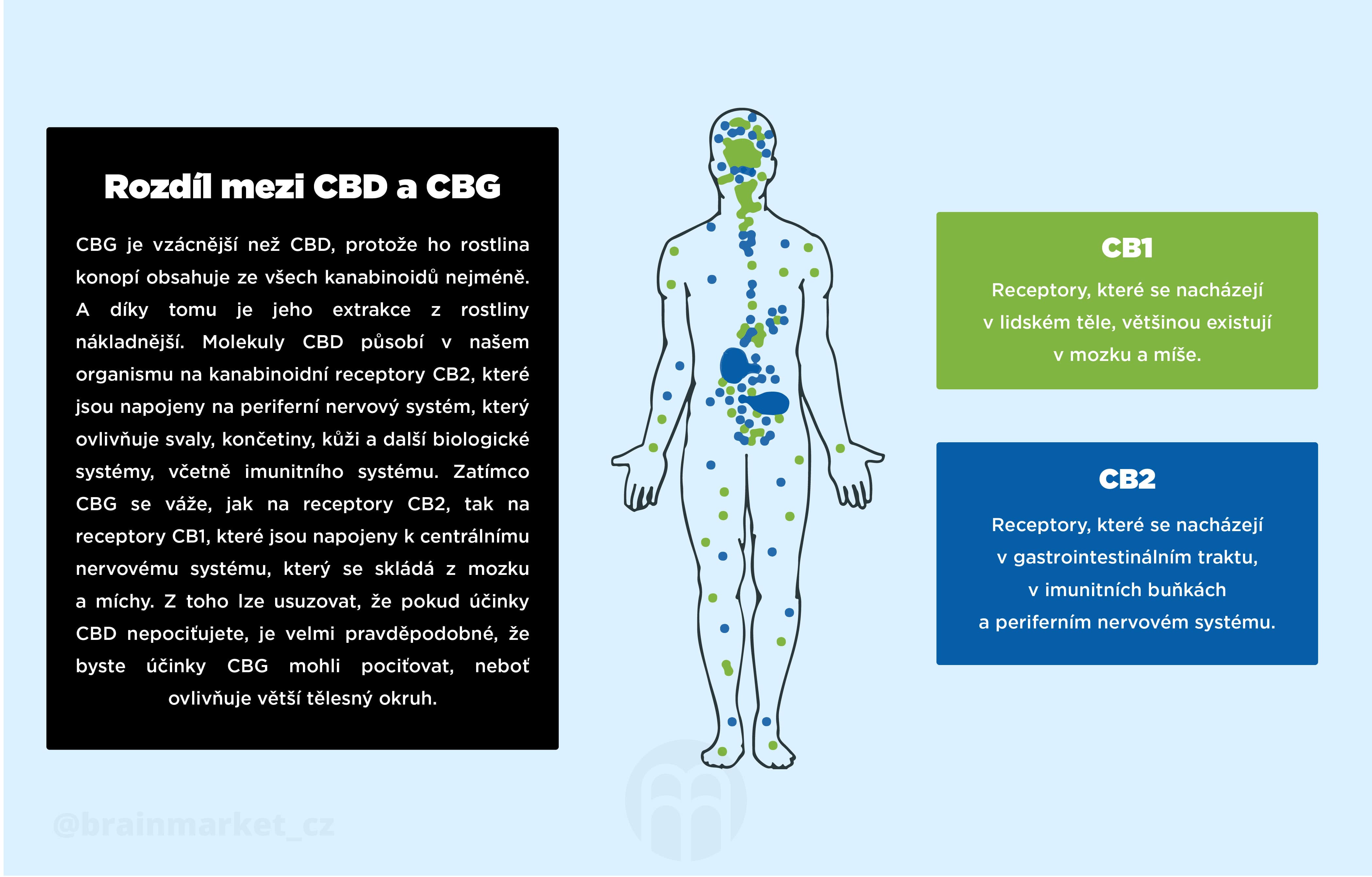 The difference between CéBéDé and CéBéGé
CéBéGé is rarer than CéBéDé because the cannabis plant contains it the least of all cannabinoids. This makes its extraction from the plant more expensive. CéBéDé molecules act in our body on cannabinoid CB2 receptors , which are connected to the peripheral nervous system, which affects muscles, limbs, skin and other biological systems, including the immune system. While CéBéGé binds to both CB2 and CB1 receptors , which are linked to the central nervous system, which consists of the brain and spinal cord. From this it can be concluded that if you do not feel the effects of CéBéDé, it is very likely that you could feel the effects of CéBéGé, as it affects a larger body circle.
Dosage
Packaging 10 ml = 250 drops, 1 drop = 4 mg CéBéGé, 1.2 mg CéBéDé.
Warning: The oils are intended for aromatherapy.

Packing
10 ml
Other information: The content of TéHáCé is up to 0.15%. The legal limit for CéBéGé products is 0.3%. After consumption, motor vehicles can be driven without restrictions. Product tested in 3 accredited laboratories (1x manufacturer, 2x control test). The carrier oil of the product is hemp.
Notice:
CéBéGé and CéBéDé should be avoided during pregnancy and breast-feeding.

Do not exceed the recommended daily dosage.

It is not a substitute for a varied diet. Keep out of reach of children.
Store in a dry and cool place.
Please recycle the packaging.
2) BORRELLI, Francesca.
Beneficial effect of the non-psychotropic plant cannabinoid cannabigerol on experimental inflammatory bowel disease
[online]. [feeling. 2021-01-25]. Available from:
https://pubmed.ncbi.nlm.nih.gov/23415610/
3) PAGANO, Esther.
Effect of Non-psychotropic Plant-derived Cannabinoids on Bladder Contractility: Focus on Cannabigerol
[online]. [feeling. 2021-01-25]. Available from:
https://pubmed.ncbi.nlm.nih.gov/26197538/
4) VALDEOLIVAS, Sara.
Neuroprotective properties of cannabigerol in Huntington's disease: studies in R6 / 2 mice and 3-nitropropionate-lesioned mice
[online]. [feeling. 2021-01-25]. Available from:
https://pubmed.ncbi.nlm.nih.gov/25252936/
Additional parameters
Category

:

BrainMax CĂ©BĂ©DĂ© + CĂ©BĂ©GĂ©
Weight

:

0.06 kg
Forma

:

Olej
Obsah CéBéD/G/N

:

3 %, 10 %
Pro jedince řešící

:

Bolest, Regeneraci, Úzkost, Mentální výkon, Bakteriální infekce, Zdraví střev
Typ

:

CéBéDé, CéBéGé
Velikost balení

:

10 ml
Be the first who will post an article to this item!