BrainMax CéBéDé SPIRIT, 26%, 10 ml
Code:
36210
Related products
Product detailed description
BrainMax CéBéDé SPIRIT, 26%, 10 ml
A very potent CéBéDé oil, which also contains a number of other beneficial cannabinoids and terpenes. BrainMax CéBéDé SPIRIT is a purely natural product , which has achieved an exceptional combination of cannabinoids and terpenes during production to enhance the positive benefits for the human body. Ethanol extraction was used to produce BrainMax CéBéDé SPIRIT , thus preserving all synergistic substances. Ethanol extraction is a more complex production process, however it is as safe as commonly used CO2 extractions and more leaves no residue in the extract. Hemp oil is used as the carrier oil.
Researchers around the world are investigating the mechanism of action of cannabinoids (CéBéDé). Thanks to many years of research, there are already many studies confirming the positive effects of CéBéDé , which are carried out by acting on our endocannabinoid system. The endocannabio system is a cellular network of receptors in our body responsible for the regulation and balance in our body .
Disclaimer: Contents This is below 1%.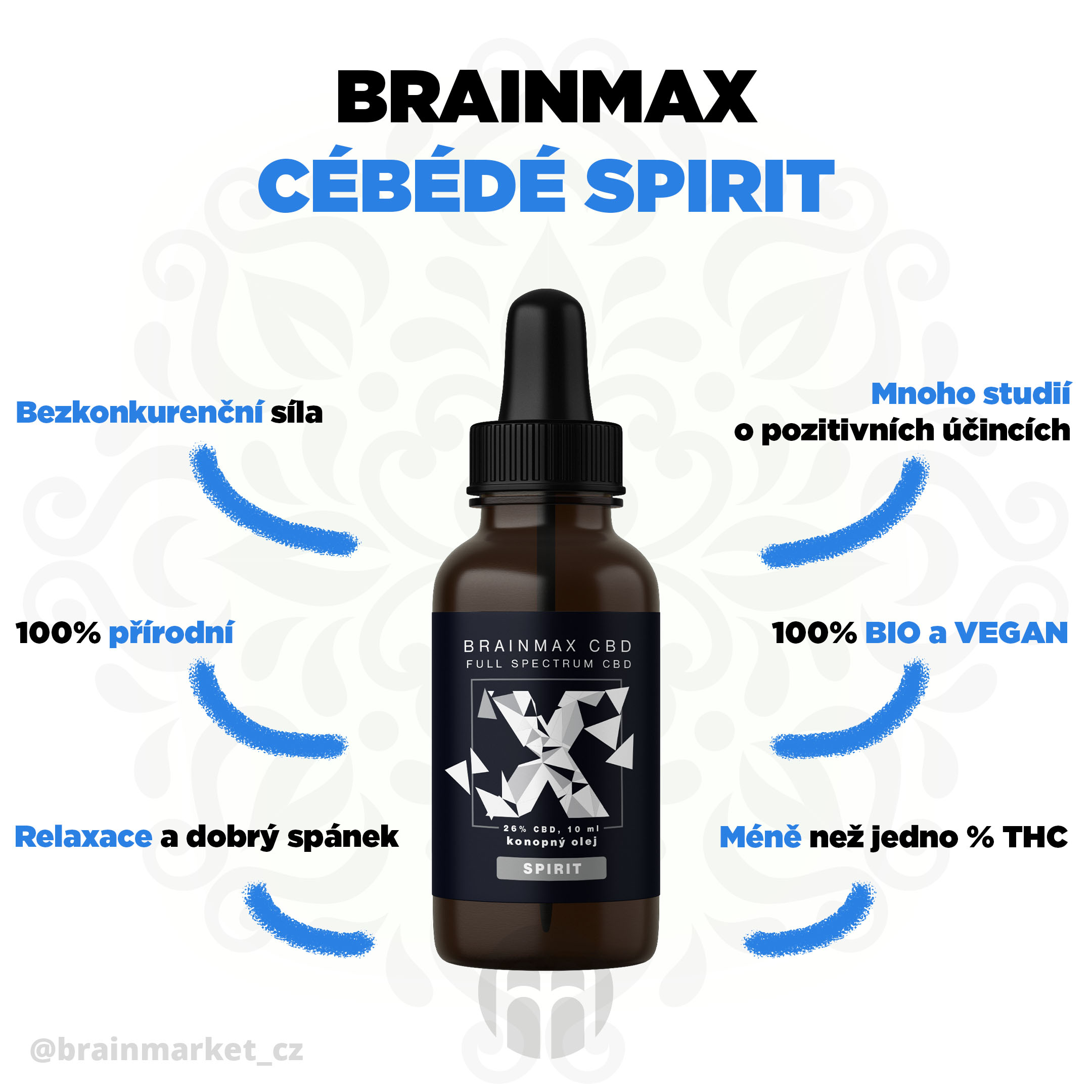 Health claim for CéBéDé (hemp oil)
Normal operation

 

heart

 

-

 

Immune system.
Normal

 

skin condition.
Normal

 

glucose level

 

in the blood.
Normal operation

 

cardiovascular system

 

-

 

cholesterol level.
Normal

 

muscle activity

 

and

 

joints.
Natural

 

defensibility

 

-

 

immune system.
* Approved health claims for hemp oil pursuant to Regulation (EC) No 1924/2006 of the European Parliament and of the Council on nutrition and health claims made on foods, as amended ("Regulation (EC) No 1924/2006").
How does CéBéDé work?
The mechanism of action of cannabinoids on our body could be compared to unlocking locks in our endcanabinoid system (ES), where cannabinoids are keys and ES receptors are locks . By using CéBéDé or CéBéGé, we release keys into the body, which unlock locks - receptors in the cells. This whole network of receptors forms our endocannabinoid system (ES), which according to scientific knowledge affects everything from mood , memory , motor functions through the functioning of the immune system , reproduction , bone growth to the perception of pain , appetite or sleep . The main function of the EC is to maintain the internal balance of the organism. According to the latest studies, CéBéDé helps to restore the organism to internal balance by acting on endocannabinoid receptors.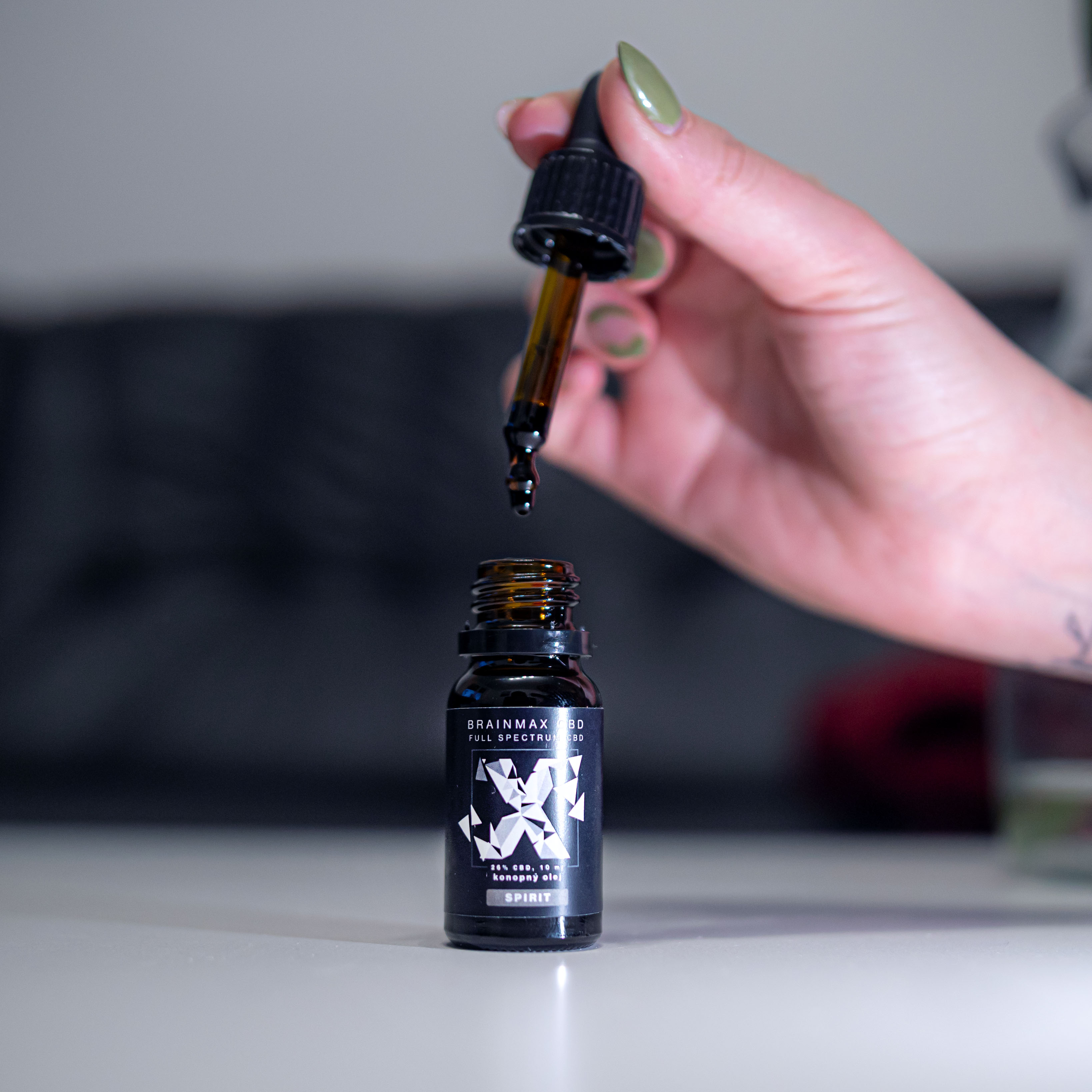 Who is CéBéDé for?
CéBéDé is suitable for individuals dealing with pain, stress, sleep, anxiety or cognitive health .
Basic properties
Organic and vegan ingredients.
Product made in the EU.
Formulation of cannabinoids and therapeutic terpenes for maximum effect on body and mind.
2600 mg Full spectrum CéBéDé oils.
Extracted by ethanol extraction, which is safe and guarantees the preservation of all synergistic substances.
The extraction leaves no residue in the CéBéDé oil and thus maximum purity is achieved.
It also contains other cannabinoids such as CéBéN , CéBéVé , CéBéGé , flavonoids and phenols .
Dosage
1 drop 1 day (1 drop contains approx. 9.3 mg CéBéDé)
Warning: oils are intended for aromatherapy purposes. We recommend using it for aromatherapy only before bedtime and after that it is not advisable to drive a motor vehicle.
Other information: The content of TéHáCé is below 1%. Legal limit for CéBéDé products up to 1% . The oil is intended for evening aromatherapy. Product tested in 3 accredited laboratories (1x manufacturer, 2x control test). The carrier oil of the product is hemp oil.
Warning: CéBéDé oil should be avoided during pregnancy and breastfeeding. A 2018 study from the American Academy of Pediatrics warned women to avoid marijuana during pregnancy due to the potential risks to the child's development. Although the study focused on the psychoactive substance TéHáCé, it is not known how CéBéDé affects fetal health, so it will be better to leave CéBéDé for postpartum. (More precisely after breastfeeding).
CéBéDé is not suitable for use with certain types of drugs used to treat epilepsy, for example. CéBéDé inhibits an enzyme called cytochrome P450 (CYP450), which certain drugs use to metabolize. By interfering with CYP450, CéBéDé can either increase the toxicity or, conversely, reduce the effectiveness of these drugs. Other drugs with which an unusual reaction can be expected with concomitant use, and   The use of CéBéDé in advance to consult a doctor are:
Antiarrhythmic drugs such as quinidine.
Anticonvulsants - Tegretol (carbamazepine) and Trileptal (oxcarbazepine).
Antifungals - Nizoral (ketoconazole) and Vfend (voriconazole).
Antipsychotics - Orap (pimozide).
Atypical antidepressants - Remeron (mirtazapine).
Benzodiazepine sedatives - Clonopine (clonazepam) and Halcion (triazolam).
Immunosuppressive drugs - Sandimmune (cyclosporine).
Macrolide antibiotics - clarithromycin and telithromycin.
Migraine medications - Ergomar (ergotamine).
Opioid painkillers - Duragesic (fentanyl) and alfentanil.
Rifampin-based drugs for the treatment of tuberculosis.
Taking these medicines does not mean that you have to give up CéBéDé. Many of these interactions are mild and do not require treatment adjustment.
It is often enough to take CéBéDé several hours apart.
Do not exceed the recommended daily dosage.

It is not a substitute for a varied diet. Keep out of reach of children.
Store in a dry and cool place.
Transport and transfer CéBéDé: Because CéBéDé oil is greasy, if the bottle of CéBéDé is not transferred in a box, the oil on the bottle may loosen the thread, causing the thread to rotate easily and the bottle to flow. Therefore, it is always necessary to carry CéBéDé in the original box. The box is made to measure, so CéBéDé does not move in the bottle and therefore does not unscrew. Please recycle the packaging.
Additional parameters
Category

:

BrainMax CĂ©BĂ©DĂ© + CĂ©BĂ©GĂ©
Weight

:

0.06 kg
Forma

:

Olej
Obsah CéBéD/G/N

:

26 %
Pro jedince řešící

:

Stres, Bolest, Regeneraci, Spánek, Úzkost
Typ

:

CéBéDé
Velikost balení

:

10 ml
Be the first who will post an article to this item!