BrainMax CéBéDé Mints 15 mg, 60 candies
Code:
CEBEDE9955
Related products
Product detailed description
BrainMax CéBéDé Mints 15 mg, 60 tablets
Use the power of CéBéDé easily in comfortable tablets and use the exceptional combinations of cannabinoids and terpenes faster to enhance the positive benefits for the human body . Each tablet contains 15 mg of very potent whole-spectrum CéBéDé , which naturally binds other cannabinoids such as CBN, CBV, CBC and others.
Cébédé naturally supports the immune system, has a positive effect on the activity of muscles and joints , optimizes the activity of the cardiovascular system , specifically cholesterol levels , and helps maintain optimal blood glucose levels .
You can find more information about Cébédé at BrainPedia.cz
Progress through dosing
Pipette oil applications often discouraged users from using CéBéDé, as well as a specific cannabis taste that simply did not have to sit for everyone. That's it, but now it's over! Thanks to the candies , your taste buds will not come into contact with hemp, instead the candies have a pleasant menthol taste and in addition you can easily choose your optimal dose for maximum effect .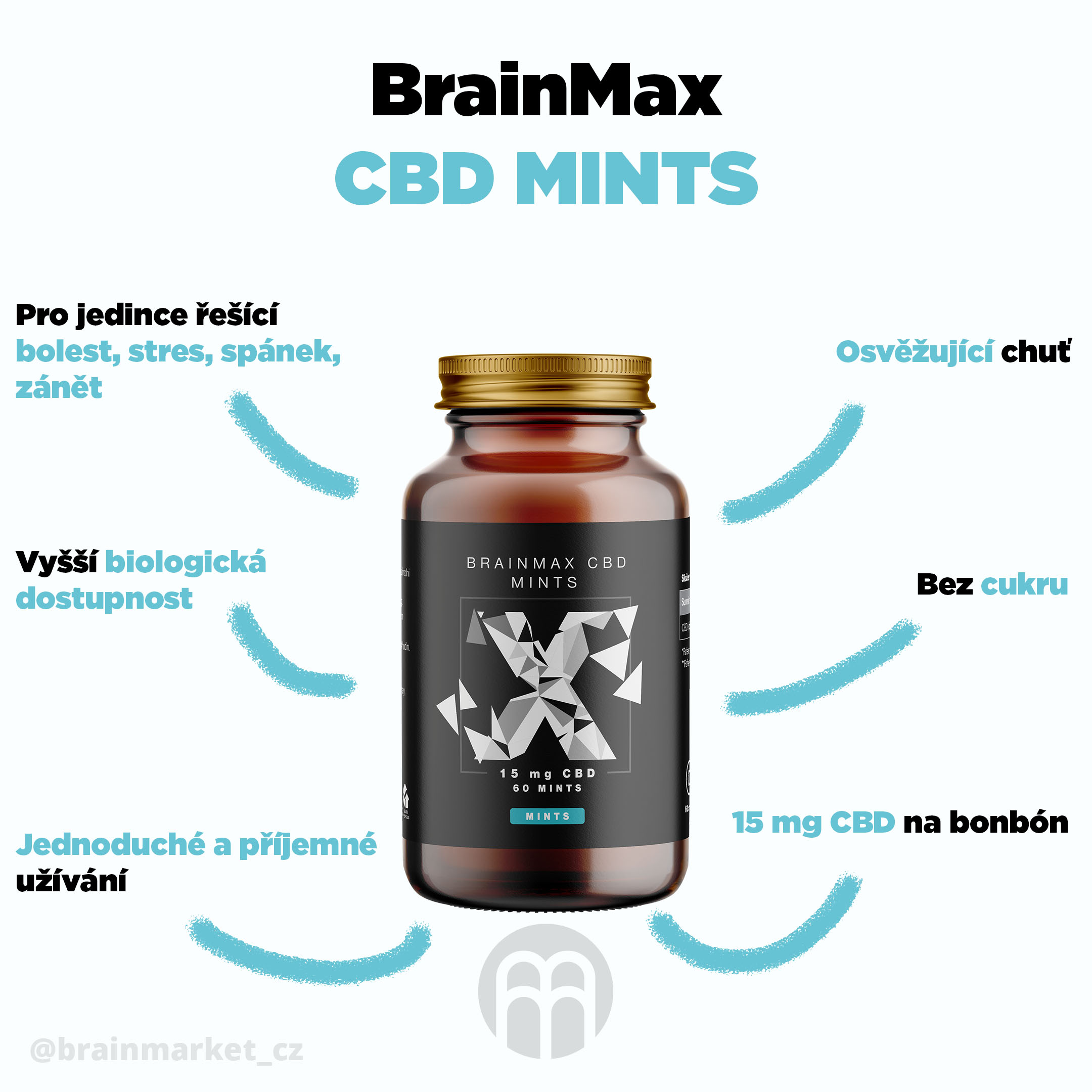 No psychotropic effect! We take only the best from plants!
When taking CéBéDé, you do not have to worry about the psychotropic effect known from the infamous cannabinoid TéHáCé. CéBéDé or CéBéGé cannabinoids do not have a narcotic effect on the body and psyche. While using our products, you will not feel unwanted changes in your state of consciousness and you do not have to be afraid to sit behind the wheel or by police.
Health claim for CéBéDé (hemp oil)
Normal heart function - Immune system.
Normal skin condition.
Normal blood glucose level.
Normal activity of the cardiovascular system - cholesterol level.
Normal activity of muscles and joints.
Natural defenses - immune system.
* Approved health claims for hemp oil pursuant to Regulation (EC) No 1924/2006 of the European Parliament and of the Council on nutrition and health claims made on foods, as amended ("Regulation (EC) No 1924/2006").
How does CéBéDé work?
The mechanism of action of cannabinoids on our body could be compared to unlocking locks in our endcanabinoid system (ES), where cannabinoids are keys and ES receptors are locks . By using CéBéDé or CéBéGé, we release keys into the body, which unlock locks - receptors in the cells. This whole network of receptors forms our endocannabinoid system (ES), which according to scientific knowledge affects everything from mood , memory , motor functions through the functioning of the immune system , reproduction , bone growth to the perception of pain , appetite or sleep . The main function of the EC is to maintain the internal balance of the organism. According to the latest studies, CéBéDé and CéBéGé are helping to restore the body to internal balance by acting on endocannabinoid receptors.
Who is CéBéDé for?
CéBéDé is suitable for individuals dealing with pain , stress , sleep , anxiety or cognitive health .
Basic properties
Organic and vegan ingredients.
Product made in the EU.
Formulation of cannabinoids and therapeutic terpenes for maximum effect on body and mind.
900 mg Full spectrum CéBéDé (15 mg in one candy).
It also contains other cannabinoids such as CBN , CBV , CéBéGé , flavonoids and phenols
Does not include: Milk, eggs, peanuts, nuts, fish, crustaceans, soy or wheat

Without sugar
Dosage
Take 1-2 candies half an hour before bed or at any time during the day as needed (eg pain). Do not exceed 70 mg in 24 hours .
TIP : you will learn more about CéBéDé and its effects in ourarticle .
Packing
60 candies
Ingredients:
Mannitol and glyceryl monostearate, CBD isolate, natural mint aroma, natural dye.
Batch size: 1 candy

Amount
in 1 candy
% RHP *
CéBéDé
15 mg
***
Calorie
2.5
***
Total sugar content
1 g
***
of which sugars
1 g
***
other carbohydrates
0 g
***
Sodium
0 g
***
*% of daily income reference value
Other information: The content of TéHáCé is up to 0.15%. The legal limit for CéBéDé products is 0.3%. After consumption, motor vehicles can be driven without restrictions. Product tested in 3 accredited laboratories (1x manufacturer, 2x control test). The carrier oil of the product is hemp.
Warning: CéBéDé oil should be avoided during pregnancy and breastfeeding. A 2018 study from the American Academy of Pediatrics warned women to avoid marijuana during pregnancy due to the potential risks to the child's development. Although the study focused on the psychoactive substance TéHáCé, it is not known how CéBéDé affects fetal health, so it will be better to leave CéBéDé for postpartum. (More precisely after breastfeeding).
CéBéDé is not suitable for use with certain types of drugs used to treat epilepsy, for example. CéBéDé inhibits an enzyme called cytochrome P450 (CYP450), which certain drugs use to metabolize. By interfering with CYP450, CéBéDé can either increase the toxicity or, conversely, reduce the effectiveness of these drugs. Other drugs with which an unusual reaction can be expected with concomitant use, and   You should consult CéBéDé beforehand with your doctor:
Antiarrhythmic drugs such as quinidine.
Anticonvulsants - Tegretol (carbamazepine) and Trileptal (oxcarbazepine).
Antifungals - Nizoral (ketoconazole) and Vfend (voriconazole).
Antipsychotics - Orap (pimozide).
Atypical antidepressants - Remeron (mirtazapine).
Benzodiazepine sedatives - Clonopine (clonazepam) and Halcion (triazolam).
Immunosuppressive drugs - Sandimmune (cyclosporine).
Macrolide antibiotics - clarithromycin and telithromycin.
Migraine medications - Ergomar (ergotamine).
Opioid painkillers - Duragesic (fentanyl) and alfentanil.
Rifampin-based drugs for the treatment of tuberculosis.
Taking these medicines does not mean that you have to give up CéBéDé. Many of these interactions are mild and do not require treatment adjustment.
It is often enough to take CéBéDé several hours apart.
Do not exceed 4 candies (70mg) in 24 hours.
It is not a substitute for a varied diet. Keep out of reach of children.

Store in a dry and cool place.
Additional parameters
Category

:

BrainMax CĂ©BĂ©DĂ© + CĂ©BĂ©GĂ©
Weight

:

0.3 kg
Forma

:

Bonbóny
Obsah CéBéD/G/N

:

15 mg
Pro jedince řešící

:

Stres, Bolest, Spánek, Úzkost
Typ

:

CéBéDé
Velikost balení

:

60 bonbónů
Be the first who will post an article to this item!