BrainMax 1.5 Adaptogenic Hegemony
Code:
1429
Related products
Product detailed description
Why BrainMax 1.5
The aim of this combination, which is unique in our market, is to positively influence the activity of tired adrenal glands (vitamin B12), immunity (licorice) and general resistance to mental and physical stress (Panax ginseng - true ginseng).
You will especially appreciate Brainmax 1.5 if you already have a problem with a lack of energy, fatigue (thanks to rhodiol adaptogens, panax ginseng) or feelings that everything is coming at you and you can't catch anything.
Centuries-proven herbal extracts combined in a unique combination and enriched with essential vitamins are a tool that will be used not only by athletes, but especially by hard-working people, overwhelmed by today's technocratic smog.
You can find out more information about adaptogens at BrainPedia.cz
Who is it for:
You have trouble getting up and morning energy . (Adaptogens - Panax ginseng or real ginseng, rhodiola, Siberian ginseng, rhodiola, schizandra.)
In case of problems with falling asleep , then suitable to combine with Performance magnesium. (Siberian ginseng.)
Energy fluctuations during the day . (Adaptogens - Panax ginseng, rhodiola, Siberian ginseng, rhodiola, schizandra.)
Long-term problems with reduced immunity . (Panax ginseng, Siberian ginseng, Licorice, Vitamin B6.)
Low resistance to stress , the feeling that it is too much for you. (Adaptogens - Panax ginseng, rhodiola, Siberian ginseng, rhodiola, schizandra.)
Low post-workout regeneration . (Panax ginseng or ginseng, rhodiola, vitamin B6)
Decreased libido . (Panax ginseng or real ginseng.)
Dislike for training . (Adaptogens - Panax ginseng, rhodiola, Siberian ginseng, rhodiola, schizandra.)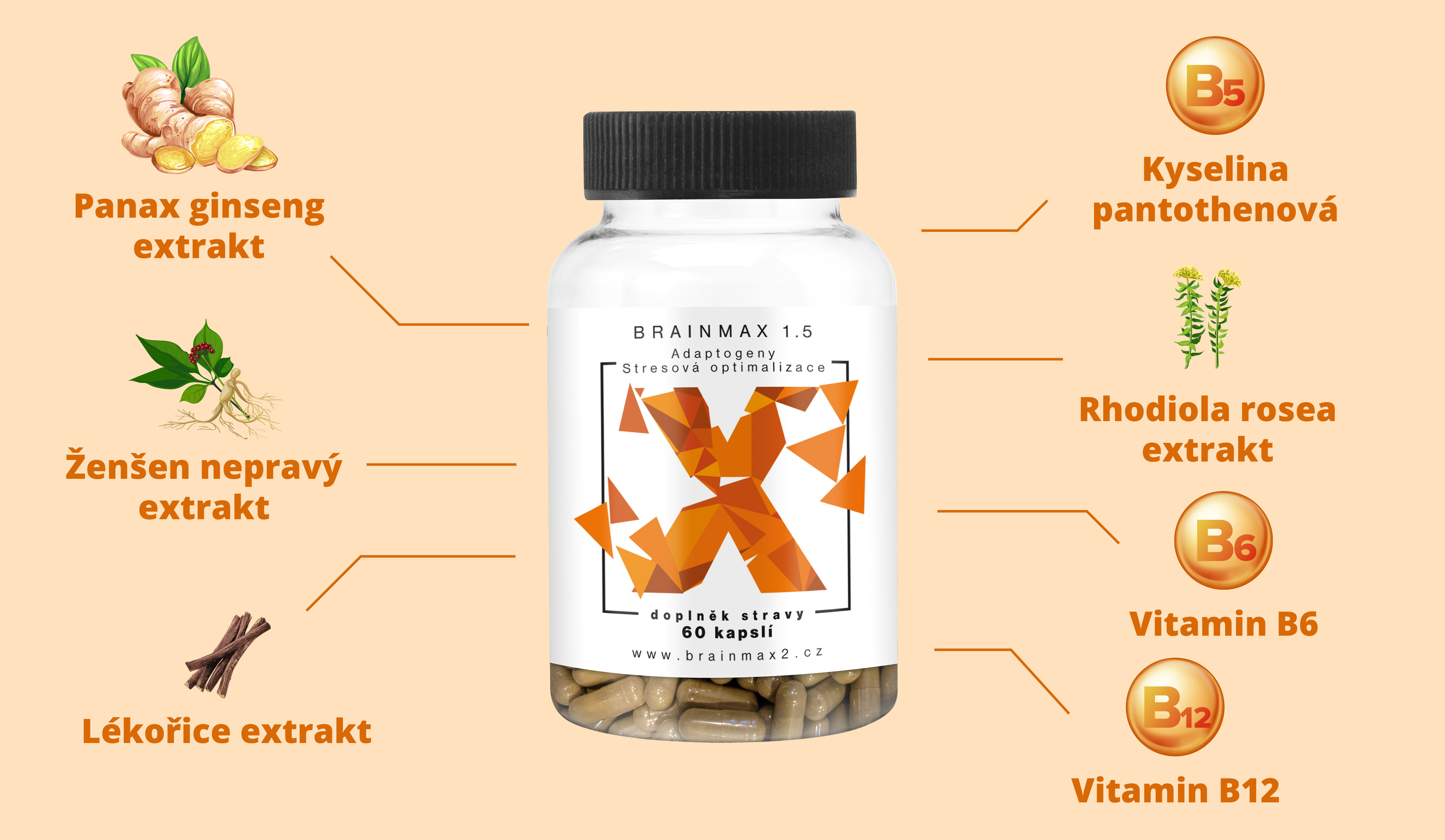 How to use
The basic daily dose is 2 tablets in the morning if you have problems with lack of energy after waking up, or at any time during the day when there is a drop in energy. If you are taking it for training reasons, then you are taking it 30 minutes before training .
Brainmax 1.5 is used every day , it is good to take it for at least 2 months at a time and eliminate all other stimulants (pre-workouts, coffee, yerba and tea) during this time. However, you can use Brainmax 2.1 Neurohacker manifesto and Brainmax 3.0. However, it always tests supplements separately first to avoid possible overdose / over-stimulation.
If you experience aggression after taking Brainmax 1.5, you do not need to take it.
Ingredients
Ingredients in 2 capsules (daily dose):
* RHP = Income Reference Value
Dosage: 2 capsules daily. One dose is 2 capsules. Enjoy on an empty stomach.
The package contains 60 herbal capsules. Suitable for vegans.
Storage: At room temperature in a dry dark place.
Warning: Keep out of reach of children. The product is not intended for children, pregnant and lactating women. Do not exceed the recommended daily dosage. The product is not intended as a substitute for a varied diet. Maintain a healthy lifestyle.
Made in the Czech Republic for the company Votamax sro
Additional parameters
Category

:

BrainMax
Weight

:

0.077 kg
Forma

:

Kapsle
Pro jedince řešící

:

Imunita, Regenerace, Stres, Energie, Sexuální libido
Typ

:

Komplex látek
Velikost balení

:

60 kapslí
Počet tobolek:

:

60
Počet dávek:

:

30
Be the first who will post an article to this item!